Despite repeated efforts to debunk it, the old meme that "girls don't want nice guys" refuses to die. One reason: people keep confusing "nice guys" with total creeps.
The most recent sufferer of this confusion is Psychology Today blogger Anastasia Harrell, who claims that "when brought face to face with a man who is truly devoted to romanticism, we quickly dismiss him. No longer considered swoon-worthy, his antics evoke discomfort and sheer terror in the hearts of women everywhere." Well, yeah — if his antics are fucking creepy. Allow me to differentiate.
Actual Nice Person
Occasionally pays you a normal compliment that is coherent and specifically related to you. Good examples: "You look great today;" "you are really smart."
Creep
Says things like, "You look imaginary." This is a quote from Harrell's Exhibit A, unsuccessful Bachelorette contest Kasey. Harrell claims Bachelorette Ali booted him for being too "sensitive," but really, "You look imaginary?" Did he mean to say something else? Does he know what "imaginary" means?
G/O Media may get a commission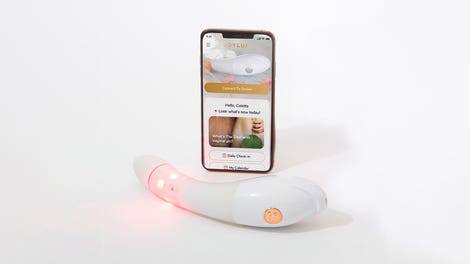 $50 Off
Joylux vFit Gold Device
Actual Nice Person
Shows interest by asking you out, laughing at your jokes, and/or simply telling you he likes you.
Creep
Shows interest by getting your name tattooed on himself before you're even dating. This is what Kasey did (although, are Bachelorette contestants all technically dating the Bachelorette? A conundrum), and yes, it's no wonder Ali was "frightened." But it wasn't because he was too nice.
Actual Nice Person
Cheers you up by doing things that you, personally, like.
Creep
Cheers you up by doing cliched things that Women supposedly like. Harrell writes, "We say we want someone who surprises us with daisies just because it's Tuesday, serenades us with his acoustic guitar, and bakes us brownies when we desperately need a chocolate fix." Do we? When did we say this? I personally hate getting flowers, and although I like chocolate, I have never "desperately needed a chocolate fix." Because I am not Cathy.
The common thread here is that generically "romantic" gestures, especially when performed too early in a relationship, are creepy. Nice: actually finding out about a person you like, and behaving accordingly. But really, even this is too complex a response to the stupidity of the "girls don't like nice guys" stereotype. Guys, just perform this simple self-test: are you a relatively normal person? If no, get therapy. If yes, someone will probably like you just fine.
Trading Roses For Weeds [Psychology Today]