A harrowing new report from Buzzfeed shines a light on what is referred to as a long open-secret within the animation industry: that the Ren & Stimpy Show creator John Kricfalusi harassed teenage girls throughout his career.
The story opens with an account from Robyn Byrd, who began a mail correspondence with Kricfalusi in 1994 when she was just 13. Kricfalusi served as a mentor to Byrd, a big fan of his work as a cartoonist, but reading her account it's clear that Kricfalusi strategically groomed Byrd to be his teenage girlfriend, calling their 25 year age gap "romantic." Reporter Ariane Lange writes:
He helped her get her first AOL account, through which he convinced her he could help her become a great artist. He visited her at the trailer park where she lived in Tucson, Arizona. "I thought I was still his little cute friend," she said. And then, when she was still in 11th grade, he flew her to Los Angeles to show her his studio and talk about her future. She said that on the same trip, in a room with a sliding glass door that led to his pool, he touched her genitals through her pajamas as she lay frozen on a blanket he'd placed on the floor. She was 16.
People who knew and worked with Kricfalusi at the time were well aware of the relationship. Three different coworkers of Kricfalusi recall being shown, on separate occasions, Polaroids of Byrd and Kricfalusi having sex or Byrd being naked, which they met with disgust. Byrd eventually left Kricfalusi in 2002 when she was 20, but by then the cartoonist had turned his attention to the 18-year-old artist Katie Rice.
Rice also began corresponding with Kricfalusi when she was a child, with him writing her flirty letters and masturbating while talking to her on the phone. After he hired Rice in 2000, she tells Buzzfeed that he began sexually harassing her:
In emails, Kricfalusi demanded her professional loyalty. He also continued to pressure her for affection. Through a lawyer, Kricfalusi denied harassing Rice, saying, "John's avid pursuit of her romantically was all after the company went out of business and he was no longer her employer." But around the time of the new Ren & Stimpy show, which was produced by Spumco and employed Rice, he wrote her a letter expressing sadness over his breakup, and also told Rice she was pretty and that he wished he could cuddle with her.
G/O Media may get a commission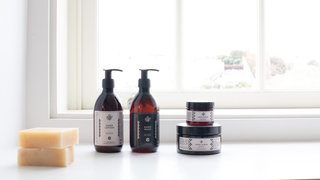 Exfoliate and Hydrate
The Handmade Soap Company
Rice eventually cut off contact with Kricfalusi after he said that his friend advised him to "just rape [her] one day" and she found images of naked underage girls on his computer (which she successfully reported to the police in 2017.) Kricfalusi's attorney tells Buzzfeed that he has never possessed child porn or been contacted by the police regarding an investigation. In response to the allegations in Lange's story, his attorney writes that the 1990s were a time of "mental and emotional fragility" for Kricfalusi and that he has stabilized his life over the past decade.
Both Rice and Byrd felt emboldened to come forward with their stories, like so many women have, in the wake of #MeToo. "He is an abuser in the way that he will pull you into a relationship with him and then tell you who to be and what he wants from you," Byrd tells Buzzfeed. "Everybody needs to know about it."