More than 20 years after Kurt Cobain was found dead in his Seattle home, Courtney Love and their daughter, Frances Bean, are still fighting to keep images from the scene of his death from being made public.

Love and Cobain have filed a response to a lawsuit from a conspiracy theorist named Richard Lee, whose obsession with Cobain's death has resulted in multiple restraining orders against him for harassing those close to the former Nirvana frontman.
According to court documents obtained by The Blast, Cobain's wife and daughter said they would suffer "substantial and irreparable damage" if the photos became public:
"Disclosure would not only exacerbate the post traumatic stress Frances Bean Cobain has suffered since childhood but physically endanger her and her mother by encouraging more disturbed stalkers and fanatical threats"; they "both receive a constant stream of death threats from very disturbed individuals who are obsessed with my father."
Obsessed with the idea that Cobain's death was not a suicide, but a murder, Lee sued the Seattle Police Department in 2014 in a bid to get the photos released, specifically one depicting "Kurt Cobain's body as it lay in the family residence after he was shot in the head." A court struck down the lawsuit in 2015, but Lee is nothing if not indefatigable, and he filed an appeal last year.
In the course of his "research," Lee stalked Nirvana bassist Krist Novoselic from from 1994 to 2000, and managed to delay a restraining order against him for 18 months while he tied up the case in appeals courts, the Daily Beast reported in 2015. Novoselic eventually got his five-year restraining order.
G/O Media may get a commission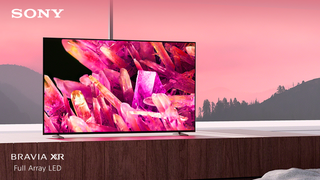 $400 off
Sony 55 Inch 4K Ultra HD TV X90K Series
According to The Stranger, Seattle's alt-weekly, Lee was tossed out of a post-screening Q&A for the documentary Kurt Cobain: About A Son in 2007 after screaming about how "Kurt was murdered."
Those annoyances, however, are nothing compared to what Cobain's immediate family has had to suffer. In 2005, Lee was arrested for screaming at Love outside a Los Angeles courtroom, accusing her of killing her late husband. "That weirdo just scares me, man," Love said at the time.
In April of 2016, Love filed a declaration saying that Lee has "stalked and harassed me, my family, and my friends for many, many years … On one particular occasion, Mr. Lee even filmed himself chasing a limousine for several miles that he thought I was a passenger in. Mr. Lee's actions make me fear for my safety."

She also said that Cobain's death was the "most traumatic experience of my life," and that she "cannot believe that there exists any genuine public interest which might be served by the public release of these images."
Bean, for her part, testified that she doesn't even remember for father, but thanks to people like Lee, she "has had to deal with the trauma of his death her entire life."