A federal appeals court has ruled a woman cannot sue her employee after she said they denied her a room to pump breast milk in and pressured her to resign.
Angela Ames, a mother of two, worked for Nationwide Mutual Insurance Co. in Des Moines as a loss-mitigation specialist. She claims when she returned from maternity leave, the company failed to provide an appropriate lactation room and eventually pressured her to resign, according to ABC News:
Ames claimed that on the morning she returned from a two-month maternity leave in July 2010, the company refused to let her use its lactation rooms because its policy required mothers to complete paperwork seeking security access and wait three days for processing. She had been unaware of that requirement. A company nurse suggested she use a wellness room that was occupied at the time, but also cautioned that doing so might expose her milk to germs.

Ames said she was in pain while waiting for that room to be vacated, when her supervisor informed her that she would be expected to work overtime to catch up on her work or face disciplinary action. Ames then went to her department head, Karla Neel, to see if she could find her a place to lactate, but was told that was not Neel's responsibility.
That's when Ames said she was pressured to quit. She said Neel gave her a piece of paper and told her to write out her resignation. Ames said Neel told her " I think it's best that you go home to be with your babies."
Ames filed a lawsuit stemming from the incident, but it was dismissed in 2012. The U.S. Equal Employment Opportunity Commission stepped in and file a friend-of-the-court brief asking for the lawsuit to reinstated.
The remark that Ames should "go home to be with your babies" was evidence of discrimination because it invoked stereotypes about the role of women, commission lawyers wrote. They also said jurors could find that a reasonable employee would quit as a result of such treatment, noting that Ames had gone through a difficult pregnancy in which her child was born prematurely and was in pain because she needed to express milk.
G/O Media may get a commission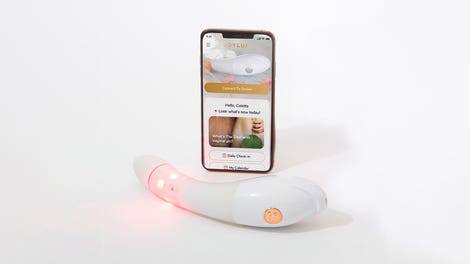 $50 Off
Joylux vFit Gold Device
However, an appeals court denied the request, siding with Nationwide, who the court stated in their decision "sought to accomodate Ames's needs."
[Ames} did not meet the legal burden of showing she was treated so badly that any reasonable person would have resigned, the 8th U.S. Circuit Court of Appeals ruled Thursday. The decision means Ames won't get a trial on her claims of gender and pregnancy discrimination

[....]
Neel's comment likely wasn't enough to prove that she intended to force Ames out, but even if it was, the employee didn't give Nationwide a reasonable opportunity to fix the conditions that she claimed made her workplace intolerable, Wollman wrote.
Ames was denied access to a lactation room because she hadn't completed the necessary paperwork, a three-day waiting process that was the same for all nursing mothers, he added. While pumping in the wellness room "may not have been immediately available or ideal," Ames had an obligation not to jump to the conclusion that her only option was to resign, he wrote.
Ames's lawyers say they plan to ask for a rehearing.
Image via Shutterstock