At a time when abortion clinics are closing at the fastest rate in U.S. history, more are likely about to shut their doors. The U.S. Court of Appeals for the Fifth Circuit ruled Wednesday that Louisiana can enforce a law that could shut down three of the four remaining abortion clinics in the state.
The decision comes a week before the Supreme Court will hear oral arguments in the biggest abortion rights case in decades. The law, HB 388, was an omnibus anti-abortion bill signed into law by then-Governor Bobby Jindal and modeled on Texas' HB 2. Among other things, it would require doctors who perform abortions to have admitting privileges at a hospital within 30 miles, which is impossible for many physicians, particularly in rural parts of the state.
Federal courts had blocked the implementation of the law several times, most recently in January, but today the Fifth Circuit—which loves greenlighting any abortion restriction it can find—granted an emergency stay of the lower court's decision. That means the law can take effect, unless the Supreme Court steps in to stop them.
The Center For Reproductive Rights said in a press release they'll seek an emergency ruling from the Supreme Court to keep the law from being implemented while SCOTUS is considering the larger abortion rights case.
"If the Supreme Court fails to act," they wrote, "the closest provider of safe and legal abortion for many women in the state will now be located in Jackson, Mississippi—a clinic that is only open due to a court order obtained by the Center for Reproductive Rights."
G/O Media may get a commission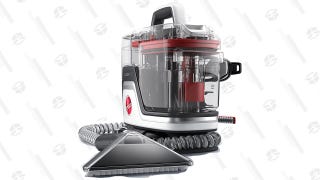 Save $10
Hoover CleanSlate Plus Carpet & Upholstery Cleaner
Nancy Northup, the CRR's president and CEO, said the Fifth Circuit's decision thoroughly fucks over women seeking abortions in Louisiana, using more polite language than that:
"Today's ruling thrusts Louisiana into a reproductive health care crisis, where women will face limited safe and legal options when they've made the decision to end a pregnancy.

"In exactly one week, we will be arguing before the U.S. Supreme Court to put an end to the kinds of unjust and unconstitutional attacks on women's rights and health that we are seeing play out right now in Louisiana.

"Whether in Louisiana, Texas, or elsewhere, women should not be forced to run to court year after year to protect their fundamental rights. It's time for the U.S. Supreme Court to make it clear that politicians cannot sneak around the Constitution to rob women of their right to safe and legal abortion.

"We will immediately seek emergency relief from the Supreme Court so these clinics are able to reopen and continue serving the women of Louisiana."
The Supremes, due to the death of Antonin Scalia, are evenly split between conservatives and liberals, meaning they could end up in a 4-4 stalemate on whether to allow the emergency stay to stand. A stalemate would allow HB 388 to go into effect, as well as Texas' similarly disastrous law.
---
Contact the author at anna.merlan@jezebel.com.

Public PGP key
PGP fingerprint: 67B5 5767 9D6F 652E 8EFD 76F5 3CF0 DAF2 79E5 1FB6
Bobby Jindal in November 2015. As governor, Jindal signed HB 388 into law in 2014. Photo via AP Images