Hot new wedding trend: brawls. These days, all the chicest weddings have them! Take one Buffalo couple, whose reception allegedly culminated in a hundred-person melee that required seven different police departments to suppress. Ah, romance!
Local news outlet WIVB has the story. The Orchard Park Police say they got a call about an altercation at the local country club around 11 p.m. Nothing unusual so far. Sounds like a little Saturday night high spirits. But when an officer arrived on the scene, he found approximately 100 people throwing the fuck down (both inside and outside). Getting the fight under control required reinforcements from law enforcement agencies in the surrounding area.
According to the Buffalo News, absolute havoc was wrought. Said one witness:
"I'm telling you, there was blood everywhere," he said. "There was holes punched in the walls. Words couldn't describe it. Just when you thought it was over, another fight started."
"Things were said that can never be taken back," added another. The bride reportedly had to be tucked safely into a back patio, because "No one was safe." Absolutely no one. Not even the bride herself.
The cops are still piecing together just in the name of God happened. The Buffalo News spoke to the night's shift commander, who said the cops were initially called earlier in the evening "regarding a member of the wedding party who was accused of touching a woman inappropriately and wound up getting punched in the face." Somebody was escorted away. Then about 45 minutes later, they got the calls about the second altercation.
G/O Media may get a commission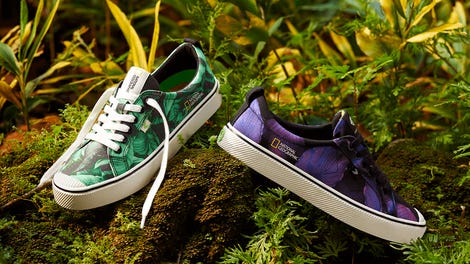 New New New
Cariuma + National Geographic
"We're still looking into the cause. There were some reports that someone grabbed someone inappropriately. We don't know if it's that or a family feud issue," police chief Mark Pacholec told WIVB. "We don't know what the issue was." I'm sure he's got his finest men on The Case of the Country Club Wedding Brawl, though.
Meanwhile, a manager at the Orchard Park Country Club itself has denied the entire tale. "Look around," he told the News. "Does it look like there was any damage?" But cops say the fight took place in a different room, and damage included "holes in walls, blood, broken crystal bowls and glasses and damage to property in the main banquet area, hallways and basement."
"For them to say nothing happened is 100 percent wrong," said the shift commander.
Let the record show this story had absolutely nothing to do with Florida.
(h /t The Raw Story)