In what is perhaps a strange homage to Breast Cancer Awareness Month, Cosmopolitanis currently running a feature on their website titled "50 Great Things To Do With Your Breasts," and guess what? Most of them revolve around dudes. Sexxxay!
As an anonymous poster on PostSecret asked earlier this morning, "Why is a magazine that's made for ME all about HIM???" And the answer, dear poster, is this: the only way to be a truly fun, fearless female is to make sure that you center your entire being around what guys want. You'll never get anywhere in life unless you lose that weight, wax those pubes, be the girl of his dreams, regardless of what your dreams and/or actual personality might be, and base your entire self-worth around validation from men. Because that's what being an independent Cosmo girl is all about: recognizing that everything you do is stupid and wrong, unless it helps you trap a man.
And while the rest of the world is "celebrating" Breast Cancer Awareness Month by bringing attention to an illness that can, at times, leave women without their breasts due to life-saving mastectomies, Cosmo has decided to spotlight the sexy side of breasts, namely, how you can use them to boost your self-confidence and improve your sex life by, well, by basically making them super-hot for dudes.
7. Overheated at the beach? Slip an ice cube out of your drink, and glide it over your cleavage.
I'm pretty sure that it is absolutely impossible for Cosmo to dole out any advice that doesn't include the obligatory "sexy ice cube" reference. The world could end tomorrow, and in a post-apocalyptic society, Cosmo will still find a way to run "Nuclear Winter Got You Down? Warm Things Up With The Hot Power Of Sexy Ice!"
14. Slather the twins with edible lotion, like Victoria's Secret Berry Passion, to give him a tasty surprise treat next time his lips are in the vicinity.
G/O Media may get a commission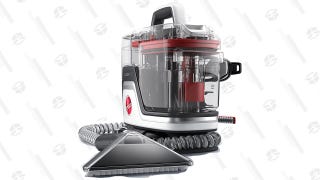 Save $10
Hoover CleanSlate Plus Carpet & Upholstery Cleaner
Because of course it's Victoria's Secret lotion, right? Of course it is. And note that the "treat" here is for his benefit.
21. When you want to go purse-free, stick your ID and credit card in your cleavage. Try Victoria's Secret Miraculous Push-Up-it adds up to two full cup sizes!
Wait a minute...is this list sponsored by Victoria's Secret? ADVERTORIAL ALERT!
19. Use them to give your guy a sensual back rub. And go crazy with the massage oil.
44. Try a new kind of wake-up call: Lightly brush your nipples across his stomach and chest to get both of you in the mood for morning sex.
Boob massage in the mornin'! Boob massage in the evenin'! Boob massage at supper time! When you listen to Cosmo, you can have boob massage any time!
49. Work silicone bra inserts in a tank top for a day, and keep a tally of all the men who stare at your cleavage.
Remember ladies: men will only pay attention to you if you slip in your fake boobs. Your real cleavage is just sad and pathetic and won't get you that awesome creepy cat-call attention from boob-obsessed strangers that you apparently so desperately seek. Don't do it to improve your own body confidence: the only way you'll improve your self-image is if men leer at your silicone insert-enhanced cleavage, and that's what really matters.
2. When you're lounging together on the couch reading or watching TV, guide his hand inside your bra and have him lightly scratch your breasts with his fingertips.
"How's your book?" "Good, how's yours?" "I...don't know, because I can't turn the page. Can I have my hand back from your boob now, please?"
7. Cook dinner topless, apply a little tomato sauce to your nipple (make sure it's not too hot), and ask your man if it's spicy enough.
Mmm...sexy second-degree burns.
40. Put temporary tattoos of his name around your nipples, and give him a peek when you bend forward in an undone button-up.
Because remember: you belong to him. His name is right there on your boobs! LOLProperty!!!
47. Hide tickets to that baseball game your guy's been dying to go to in your bra, and tell him to go hunting for hidden treasure.
Boys like sports!!!! And boobs!!!! Force him to get to second base by combining the two! Nothing says "hot" like bribing someone to touch you, you know?
42. Stick on nipple tassels, and practice swinging them (hint: It's all in the knees). Use your newfound talent to put on a sexy show for your man.
For your man! Because you wouldn't possibly have a girlfriend, or anything. And because your boobs, lest you forget, are there solely to provide sexual excitement for dudes.
8. This trick really makes your boobs look voluptuous: Stand in front of a mirror under an overhead light, and sweep bronzer over the dark areas underneath and between your breasts. Deepening the shadows that they create gives the impression of greater fullness.
Because if they aren't full, they aren't HOT.
35. Make a donation to the Breast Cancer Research Foundation in honor of your boobs.
Well, all right. It's hard to argue with this one. Now, if you'll excuse me, I need to go lotion up, stick my enhancers in, drop a pair of tickets into my bra and cook some sexy, sexy sauce. And then smother my boyfriend with a boob massage while he tries to a. read his book and b. call for help. We've come a long way, baby.
50 Great Things To Do With Your Breasts [Cosmopolitan]