This month's issue of Cosmopolitan devotes a sizable amount of ink to Q&A's with the women of SNL, complete with a photo spread of the comedians at a fake girly slumber party wearing girly pjs that cost more than most semi-successful comedians get paid to headline a half hour set. As with everything of or related to women and Saturday Night Live, Some Are Displeased with this.
The Q&A with SNL cast members Cecily Strong, Kate McKinnon, Aidy Bryant, Sasheer Zamata, Nasim Pedrad, Noël Wells, and Vanessa Bayer is innocent enough, touching on such non-envelope pushing questions that we should have already answered in the 1950's as "ARE WOMEN FUNNY?" (to paraphrase the answer given by every comedian whose answer to that question was published: "Ugh. Yes.") and "WHAT IS FUNNY TO YOU?" The interviewer asked newish cast member Sasheer Zamata about her status as the first black female SNL cast member since Maya Rudolph, and she gives the sort of diplomatic answers I'm sure she's worked through in her head over and over and over again. But where people seemed to take issue wasn't with what the women said, but rather how they've been styled. Here's Refinery 29 on what they're calling "a step back for female comedians everywhere."
[...] in this sleepover-themed spread, the female cast trades its comedic chops for sexual subtext. At the same time, the shoot gives a very limited definition of what sexy means: A mostly nude Sasheer Zamata is at the center, while Aidy Bryant's body is entirely covered — by sheets in a group picture, and again in her individual Q&A by a large bunny head.
First, lest I be accused of "hating," every SNL cast member featured looks great, albeit suspiciously pore- and hairless, thanks to a little heavy handed airbrushing (irritating, but par for the course for a magazine like Cosmo, which can't exactly be expected to be party in shattering a Photoshopping culture it relies on to create the perfection it, in turn, markets to its readers). These women would be gorgeous sans digital alteration; because it's New Yawk and celebrities just run around in the wild here, I've seen several of these women in real life. They're totally pretty.
But R29's overwrought opposition to the Cosmo shoot isn't entirely without its good points. It's true that Aidy Bryant is covered by a bunny head in her individual shot, but, lest Cosmo be accused of covering up the plus sized cast member and showing off the thin ones, the body of more petite Noël Wells is also obscured in both the long and close up shot. And they're absolutely right that GQ or Rolling Stone or Esquire would never feature a spread of male comedians having some coquettish slumber party fun together in a magical fluffy land of pillows and pastels. Would Maxim dress its comedy idols up as tee ball players? Probably not. But is this Cosmo shoot "a step back for female comedians everywhere?" Hardly. To call anything "a step back" implies that we were in a better place regarding women than is depicted in Cosmo's shoot, and this, sadly, is more of the same.
G/O Media may get a commission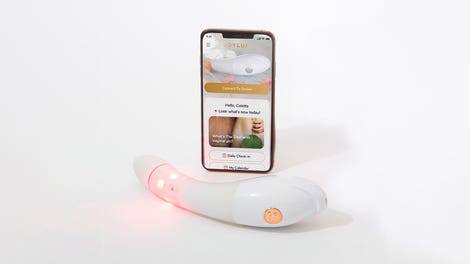 $50 Off
Joylux vFit Gold Device
And that's why it's a shame that Cosmo, as part of its recent push to move out of late night joke fodder territory and into a more subversive, in-on-the-joke vibe, didn't seize this opportunity to make a statement about how, for the most part, women in comedy with rare exception are told that they must remind us that they can be both sexy and funny at the same time, and how fucking bullshit that is. Amy Schumer plays with this notion all the time, but in a way that exposes and dissects it (with bonus dick jokes). Why not Cosmo? No time like the present.
Photographing the seven women of SNL like they're having an OMG YAY SLUMBER PARTY doesn't confront the frustration of the female comic who must always remind audiences that she's girly, it only reinforces the pesky notion that every time a funny, girly, sexy new comedian or comedic actress comes along, pop culture treats her like she's breaking new ground, how female comedians are pushed to prove that they're girly enough or sexy enough over and over again. It's a bullshit hamster wheel of nonprogress. In the 1950's, Lucy Ricardo and Elaine May proved women could be both beautiful and funny, after other women had already proven it in the decades prior. And then Joan Rivers did it in the 1960's. And then Mary Tyler Moore and Jane Curtin and Carol Cleveland and Madeline Kahn did it. And then Christina Applegate and Aisha Tyler and Tina Fey and Amy Poehler and Maya Rudolph and Rashida Jones and Kristen Wiig and oh my fucking god why are we still having this conversation?
A "step back" for women in comedy this is not, but Cosmo's slumber party shoot is boringly predictable. It would have been interesting if interviews that touched a lot on confronting comedy stereotypes featured the women of SNL performing stereotypically masculine jobs. Or if the fluffiness of the slumber party set had been played up to the point of ridiculousness, turning the whole thing into a Valley of the Dolls style parody. Or if they were just shot in gorgeous party clothes like grown ups! Or if they'd been shot in matching 90's windsuits like the world's most hilarious boy band posing for a Teen Beat style spread, the kind with pull out posters that fit conveniently on the inside of a middle school locker. (Note: one way or another I'd cry with joy if this had been how they'd been photographed.)
Silver lining, though: there are currently seven female cast members on SNL. That's fantastic! It's also fantastic how over male/female comedy stereotypes these women seem to be, and how Sasheer Zamata deflected the multiple questions about her blackness like she was wearing Wonder Woman wristbands. Hopefully, this speaks to a cultural shift within the comedy community that rewards people for whether or not a comedian can make an audience laugh and doesn't constantly require affirmation that they'd be tons of girly fun at a slumber party.