"I'm heterosexual," Senator Cory Booker said during an interview with the Philadelphia Inquirer. Booker's sexuality has nothing to do with whether or not his actual policies are good or bad, but his feeling the need to set the record straight leading up to a possible 2020 presidential run provides a grim glimpse into the absurdity that is sure to come during the upcoming election cycle.
The Inquirer provided some context for his answer, noting that the president's family members have become "quasi-celebrities," a factor that would be notably absent in a Booker presidency; an unmarried president hasn't been elected since Grover Cleveland in 1884. Like religion, marital status may be one of those shallow, irksome factors with which voters consider in supporting a presidential candidate. And when it comes to bachelors—particularly aging ones—homophobia undoubtedly plays a role. South Carolina Senator Lindsay Graham had long fielded questions about his sexuality and bachelordom, which ramped up when it was rumored Graham would run for president in 2016. And Booker is no stranger to this either.
"In past political campaigns Booker's opponents have tried to use his single status to question his sexuality," the Inquirer noted. This was documented in the 2005 documentary Street Fight, which followed Booker during his failed 2002 mayoral campaign in Newark, New Jersey (he eventually won the mayorship in 2006). In the final weeks of the campaign, Booker's opponent—incumbent Mayor Sharpe James—launched a smear campaign, which included a rumor that Booker was gay. Booker denied the smears, but they may have been enough to derail his campaign.
Since then, Booker's responses to questions about his sexuality have oscillated between bold denials—like the one he gave the Philadelphia Inquirer—and ambiguous ones that arguably lay it on a little thick in the "I'm-a-good-ally" department. For example, in 2013, Booker told the Washington Post that, actually, he loves it when people think he's gay:
And people who think I'm gay, some part of me thinks it's wonderful. Because I want to challenge people on their homophobia. I love seeing on Twitter when someone says I'm gay, and I say, "So what does it matter if I am? So be it. I hope you are not voting for me because you are making the presumption that I'm straight."
G/O Media may get a commission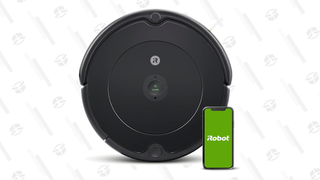 35% Off Black Friday Deal
iRobot Roomba 694 Robot Vacuum
That's a far cry from an op-ed he wrote in 1992 when he was a student at Stanford University. In it, Booker admitted that once hated gay people and had since outgrown his disdain, but said he still found himself getting defensive if someone assumed he was gay.

Booker has apparently been dealing with assumptions about his sexuality for nearly 30 years at the very least, and has responded to these rumors with varying levels of grace.
"Every candidate should run on their authentic self, tell their truth, and more importantly, or mostly importantly, talk about their vision for the country," Booker told the Inquirer. He also argued that the norms have changed when it comes to the family dynamics of elected officials these days anyway, implying that being a single, unmarried man will be of little consequence to his electability.
Not much to argue against there, but Booker preemptively capitulating to talk of his sexuality presents an undoubtedly dour 2020 forecast. Potential 2020 candidate Senator Elizabeth Warren fell for the right's bait regarding their skepticism of her (apparently trace) Native American ancestry, and is already paying the price. Now, Booker appears to have succumbed to similar pressures, playing a game which neither he nor Warren can win.
Regardless, Booker seems keen to appeal to Trump voters and centrists. In an interview with The Atlantic, he said that "[...] millions of good Americans, good decent Americans, voted for Donald Trump," and argued that love was the key to deconstructing "artificial constraints" like racism. He spoke too of his faith, identifying himself as a "Christian American," which strikes as incredibly odd phrasing.
If Booker's early interviews are any indication, the Democratic primary is going to be a slog and 2020 is going to be a nightmare.