We haven't had occasion lately to write much about Glenn Beck, the formerly spittle-flecked, excitable Mr. Potato Head host of a show where he once seriously— seriously— compared the trials of Paula Deen to those of Martin Luther King Jr. But today Beck is backish, trying out a newer, calmer persona for the New Yorker. Only slightly calmer, that is: after publication, his PR team demanded that the magazine correct a claim that he supports Black Lives Matter, because caring about black lives is a bridge too far.
In the New Yorker chat, Beck reflects on everything he did to bring us to this overheated and hideous moment in politics, and he feels kind of bad:
Decency is a fresh palette for Beck, who, at Fox, used to scribble on a chalkboard while launching into conspiratorial rants about looming Weimar-esque hyperinflation, Barack Obama's ties to radicals with population-cleansing schemes, and a Marxist-Islamist cabal itching to take over America. He once described Clinton as "a stereotypical bitch" and accused Obama of being a racist with a "deep-seated hatred for white people."

That was the old Beck, he insists: "I did a lot of freaking out about Barack Obama." But, he said, "Obama made me a better man." He regrets calling the President a racist and counts himself a Black Lives Matter supporter. "There are things unique to the African-American experience that I cannot relate to," he said. "I had to listen to them."
As Mother Jones' Nick Baumann reports, one thing in that story is Not Right:
G/O Media may get a commission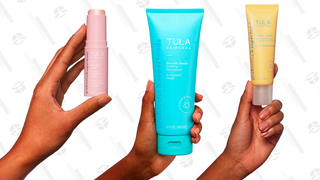 They've also corrected Mediaite, although the New Yorker itself has yet to run a correction or a clarification.
Beck might not support a broad-based, peaceful, historically important racial justice movement, but he does think Donald Trump is bonkers, according to the profile:
Beck's interactions with Donald Trump helped, too. He told a story of Trump summoning him to a guest room at Mar-a-Lago; Trump then telephoned him from an adjacent room. "We had this weird, almost Howard Hughes-like conversation," Beck said. He left convinced that Trump was nuts. "This guy is dangerously unhinged," he said. "And, for all the things people have said about me over the years, I should be able to spot Dangerously Unhinged."
This is the weirdest year in history, making all of us the strangest bedfellows, that much we know. More importantly, though, what happened to that Ayn Rand theme park Beck was threatening to build?