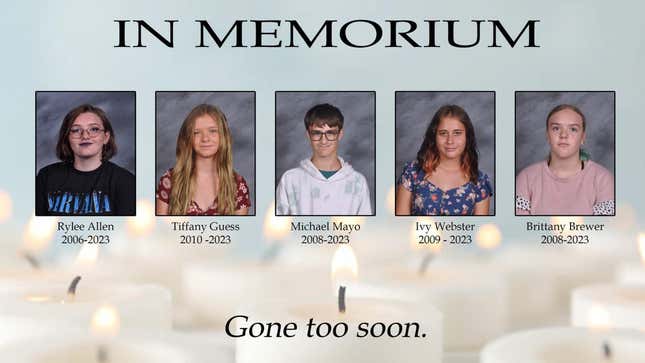 On Monday, the bodies of seven people—including five teenagers and the man who fatally shot them—were discovered by police on the property of his Oklahoma residence. Jesse McFadden, a convicted sex offender who was recently released from prison after serving 17 years on a first degree rape charge, inexplicably murdered his wife, his three stepchildren, and their two friends before turning the gun on himself. His motive remains unknown.
Olivia Holt Didn't Originally Get the Part of Roxie Hart in 'Chicago'
"Part of the problem when the community suffers with something like this is everybody wants to understand why," Police Chief Joe Prentice told reporters at a press conference on Wednesday. "Normal people can't understand why. People that perpetrate crimes like this are evil."
The teenagers—Rylee Elizabeth Allen, 17; Michael James Mayo, 15; Tiffany Dore Guess, 13; Ivy Webster, 14; and Brittany Brewer, 16—were reportedly having a slumber party over the weekend. McFadden, per police investigation, shot all of the victims in the head with a 9mm handgun given to him by his wife. He used the same gun to take his own life with a gunshot to his head. Their bodies were found scattered throughout the sprawling property.
Outrage over McFadden's criminal history and why he was released early from prison following a 28-year sentence is ongoing. Not only was McFadden convicted of rape, he was also charged with soliciting sexual conduct and communicating via contraband cell phone while behind bars. Notably, a trial for the latter charge was supposed to have taken place the day the bodies were discovered.
Janette Mayo, the mother of McFadden's wife, Holly Guess, told the Associated Press that her daughter and their family weren't made fully aware of her husband's crimes. She added that his behavior concerned her. "He lied to my daughter, and he convinced her it was all just a huge mistake," Mayo said. "He was very standoffish, generally very quiet, but he kept my daughter and the kids basically under lock and key. He had to know where they were at all times, which sent red flags up."
Justin Webster, the father of McFadden's stepchildren's friends, too, recalled having suspicions about the man with whom his daughter spent time, though he told AP he was also unaware of his criminal record. "I would say he was weird," he recalled. "He was always getting into his kids' phones and reading all their snap messages and all that. It wasn't in a way of a concerned parent. It was more of keeping tabs on the kids."
Webster, as many members of the community, has directed his anger at the criminal justice system for allowing a man like McFadden to live freely and endanger the lives of those closest to him. "The sexual (offender) registry doesn't work," he told AP. "I think there needs to be action taken. There needs to be repercussions, and someone needs to be held accountable. They let a monster out. They did this."