Though the Kardashian tribe has been practicing the ritualistic art of contouring for eons now, this face-slimming makeup technique is just now hitting the unwashed masses in earnest. Every counter at Sephora is touting a new contour product, and let me tell you: the illusion of higher cheekbones does not come cheap.
Perhaps Kat Von D had the buzziest release of late with her Shade + Light Contour Palette (clocking at $46, or approximately 13.14285 pairs of Old Navy flip flops). You've also got Kevyn Aucoin's The Contour Book: The Art of Sculpting + Defining, which is not a memoir by a guy named Kevyn but actually a palette of contouring makeup that costs $59. Both Anastasia Beverly Hills and Too Faced are hawking their own contour palettes at $40 a pop, whereas Clinique wants you to buy your contour stick ($21) and highlighting stick ($21) separately. And, by the by, not all of these sets come with brushes (in fact, most don't).
You're probably thinking now that you will simply live with your multidimensional, yet somehow not multidimensional-enough, face. That you will rely on Instagram filters to do the heavy lifting. That you will maybe download that face-slimming app you suspect your old roommate uses.
Well, I'm here to tell you that you have been sold a FALSE BILL OF GOODS! Sound the False Bill of Goods alert! (Which is just me screaming "False Bill of Goods" into the void of the Internet over and over again, forever.)
You don't even NEED a fancy contouring palette. You are fine without it. Delete its number.
G/O Media may get a commission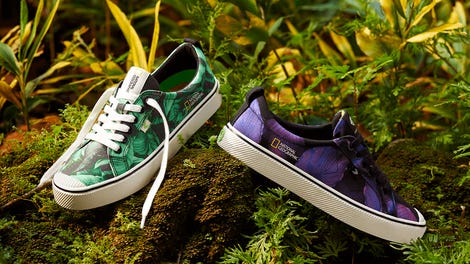 New New New
Cariuma + National Geographic
You may have all the elements necessary for contouring in your arsenal already, or you may need to take a trip to CVS, but let's be honest: you were going this week anyway, and you were going to buy something, so have it be this instead of, like, a DIY ombre kit. Oh god, please have it be this.
First you need a bronzer. You may have one lurking somewhere in your makeup bag, or it may have been crushed to smithereens at the bottom of your purse four years ago. No matter: you can get a new one. For the purpose of sculpting, I use E.L.F.'s Essential Sunkissed Glow bronzer in Warm Tan ($2.60). It has a pretty, non-chunky subtle shimmer and works well with my medium-beige complexion (it's just a tad deeper than what I've got going on). You'll want to find something a teensy bit deeper than your skin. E.L.F.'s Studio Baked Bronzer comes in some really nice darker shades, as does Wet n Wild's Color Icon Bronzer SPF 15 ($3.99). For the true porcelain dolls among us, you can get away with using a lightweight, neutral buff-colored blush like NYX Powder Blush in Taupe ($9.50). Play around with it and see what you like; this is a highly fun Saturday morning activity. Camp out in some natural light with a hand mirror and have a You Party while something mindless plays on Netflix.
Next, you'll need concealer. Use whatever one you like that's creamy and super easy to blend. Make sure to go a shade lighter than your face. I use some CoverGirl one I've had forever because I like the way it blends. You're a busy person and I don't want you to spend untold hours blending.
As far as brushes go, I can't recommend the Real Techniques Core Collection brush set ($14.50) highly enough. I use the Contour Brush to apply my bronzer, then the Pointed Foundation Brush to blend my highlight (the concealer). Other affordable but good brushes are the Sonia Kashuk ones from Target and the Sephora-brand ones at Sephora. For the bronzer you want one that's somewhat fluffy; for highlight I recommend something in a fan shape. You can also use a makeup sponge for the highlighter. Go crazy!
Here's how you're going to do it, friends. It's very simple. First suck your checks in and make a fishy face. Swirl your brush in your cheap-o bronzer, then draw two big 3's on the crudely drawn emoji that is your face, like so:
Blend it enough. Trust your intuition on that, for she will never steer you wrong.
Now, apply a bit of concealer on the high planes of your face. Sneak a dab of your concealer right under the arches of your brows, right on the center of your chin. The tip of your nose, the center of your forehead. I don't profess to know the shape of your face but those are some safe bets, generally speaking. Again, blend those with the strength of ten Grinches plus two.
You've done it. You've contoured your face like a true professional. Go forth and sweat it all off!
Lindsay Filardo is an occasional writer and frequent napper who lives in Washington, D.C. She likes Harry Styles and nothing else.