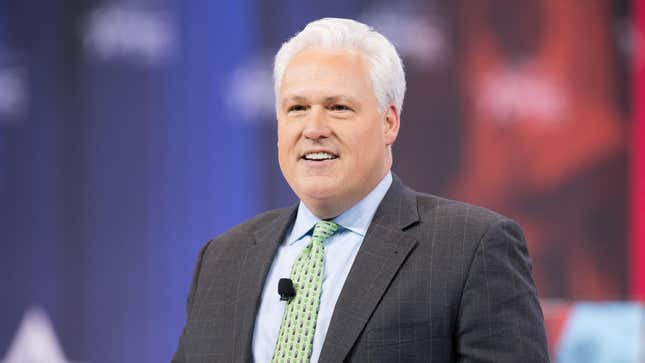 A former staffer for Herschel Walker's failed Senate campaign has accused Matt Schlapp, a top Republican operative and chair of the American Conservative Union—which organizes the Conservative Political Action Conference (CPAC)—of sexually assaulting him in October when Schlapp was in Georgia assisting with Walker's campaign, the Daily Beast reported Friday.

The Filibuster is Standing in the Way of Abortion Access
According to the staffer, Schlapp had his hands on him all night when Walker staffers went out to several Atlanta bars a few weeks before the election. When the staffer drove Schlapp to his hotel, Schlapp allegedly "groped" and "fondled" his crotch in the car. Upon arriving at Schlapp's hotel, the staffer claims Schlapp invited him up to his room, which he declined.
The alleged incident was "scarring" and "humiliating" for the staffer, who then recorded a series of videos documenting his reaction to it, which he shared with two close friends at the time and the Daily Beast. He also said he felt "nothing but support" from the Walker campaign, which connected him with legal resources. A senior Walker campaign official speaking for the campaign confirmed the staffer's version of events to the Daily Beast. And in a series of texts and call logs the staffer provided, when he told Schlapp that Schlapp's actions the previous night had made him uncomfortable, Schlapp didn't question what specifically had made him uncomfortable but rather asked him to give him a call.
Schlapp's attorney characterized the Daily Beast report as an "attack" and said "Mr. Schlapp denies any improper behavior."
Regretfully, I'm not exactly surprised by this news. At the same time that top Republicans and conservative activists paint Democrats as a party of LGBTQ, sexually abusive "groomers," often enough, they're the ones facing disturbing allegations of misconduct and sexual predation.
Schlapp has a record of defending former President Trump and Supreme Court Justice Brett Kavanaugh from allegations of sexual misconduct. At the same time, referring to an allegation of sexual misconduct against President Biden, Schlapp tweeted in 2019, "With 5 daughters I'd prefer Biden to be several doors down, not next door." CPAC itself is an increasingly unhinged hot bed for anti-LGBTQ bigotry that provides a massive platform for anti-LGBTQ extremists and alleged abusers, from Trump to Rep. Matt Gaetz (R-Fla.), the latter of whom is under investigation for human trafficking and statutory rape.
Again, I almost wish I could still be surprised and not just horrified by allegations like this, directed at powerful conservative men like Schlapp. But we've seen too many cases like this—"family values" fanatics building their careers around claiming to "protect" kids from sexual abuse supposedly perpetrated by the left, then all too often being exposed for perpetrating it themselves. It turns out, when your politics diametrically oppose the right to bodily autonomy, your actions in your personal life might just reflect this.