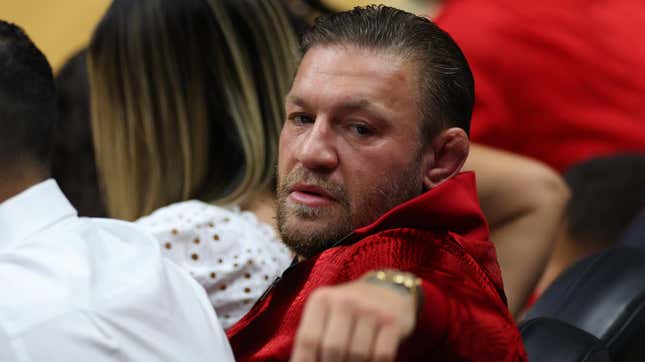 On Thursday, TMZ Sports reported that Conor "The Notorious" McGregor, a UFC fighter, has been accused by of "violent" sexual assault by an unnamed woman.
Blue Ivy, Like All Human Beings, Has Aged and Thrown Me Into A Crisis
Attorney Ariel Mitchell claims the alleged assault occurred after Game 4 of the NBA Finals on June 9, when the Denver Nuggets beat the Miami Heat. Mitchell said that NBA and Heat security separated the woman from her friend and proceeded to force her into a nearby restroom, where McGregor and his security guard were waiting. "Security refused to let [the woman] exit or allow anyone else, including her friend, inside the bathroom," she explained in a letter obtained by TMZ.
The attorney went on to add that McGregor came out of a handicap stall and "and shoved his tongue in the victim's mouth and aggressively kissed her." The plaintiff says she was able to temporarily evade McGregor by saying she had to urinate, at which point he allegedly forced her to engage in oral sex with him and then attempted to sodomize her against a wall. Mitchell claims the woman had to elbow McGregor repeatedly to flee the bathroom, but in her haste to get out, she left her purse. In order to retrieve it, she says she was forced to plea with McGregor's security guards.
In lieu of litigation, Mitchell said the woman is seeking settlements not only with McGregor, but the NBA and the Heat for their alleged involvement.
Representatives for McGregor—who's currently expecting his fourth child with his fiancé Dee Devlin—have already claimed that the woman's "allegations are false."
"Mr. McGregor will not be intimidated," they told TMZ Sports.
It's worth noting though that this is far from the only allegation of assault and sexual violence levied against McGregor. In 2018, he was arrested and prosecuted for hurling a steel dolly through the window of a UFC bus. The following year, he was arrested for felony robbery for taking a man's cell phone at a Miami hotel in 2019. One month later, he was caught on camera punching an elderly man over shots of whisky in Ireland. Then in 2020, he was detained for attempted sexual assault and indecent exposure. By 2021, he was sued by a woman who claimed he sexually assaulted her in a Dublin hotel room. Finally, in January of this year, a case against McGregor wherein he's alleged to have physically assaulted a woman while aboard his yacht in July 2022 was reopened when new details emerged. He has, of course, adamantly denied all of the aforementioned.