Judging from my Instagram feed and some recent puddles of sidewalk vomit, SantaCon season is in full force. And few cities have experienced the force as fully as Hoboken, New Jersey, where 14 people were arrested on Saturday, according to the New York Post.
Indeed, apparently Saturday's revelries descended into drunken chaos, with four police officers ending up in the hospital, in addition to the arrests. It sounds like the cops are fine, despite the mayhem:
A Middletown, NY, man was charged with aggravated assault for dislocating a cop's thumb during a brawl — but was processed and released in time for another round of drinks, Ferrante groused...

...A Staten Island man was also hit with assault charges after he allegedly socked a sergeant in the jaw.

Two other officers had to be taken to the hospital after "getting a lot of blood on them" from combatants in a fight at a Johnny Rockets, according to the chief, who provided rolling updates on Twitter.
"Ferrante" refers to Hoboken police chief Ken Ferrante, who does not appear to be a fan of SantaCon. Ferrante provided a running list of arrests on his Twitter feed, noting some fairly serious charges like drunk driving and criminal sexual contact. The city also handed out dozens of citations for public drinking and urination.
In a statement, Hoboken mayor Ravi Bhalla described SantaCon as "a detriment to our city:"
We are grateful to the Hoboken Police Department and all first responders for their hours of hard work keeping Hoboken safe. While I'm encouraged our proactive stance with Hoboken PD in addressing SantaCon yielded a decrease in participating bars, overall participants, arrests and ordinance violations from last year, it continues to be a detriment to our city.

We'll continue to explore ways to mitigate the impact of future 'con' events.
Other cities recently forced to suffer through SantaCon include Oakland, California; London, and New York City, whose SantaCon I tragically missed last weekend. Though, full disclosure, I once covered SantaCon for "journalism" and it was nearly fun, if just because I ended up drinking a lot of whiskey. If you can't beat 'em, join 'em on the floor in horrible whiskey pain, as I always say, or at least I said one time while wearing a horrible Christmas sweater.
G/O Media may get a commission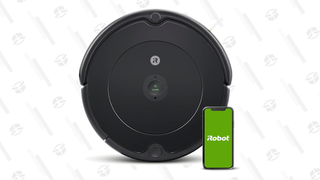 35% Off Black Friday Deal
iRobot Roomba 694 Robot Vacuum