The xenophobic, Islamophobic travel ban introduced this weekend was implemented hastily, with seemingly little forethought. And in the midst of the fear and chaos, it became clear that no provision had been made for U.S. permanent residents, aka green-card holders. After much bumbling, Department of Homeland Security Secretary John Kelly has determined that they will not be deported, no matter their country of origin.
As the Daily Intelligencer reports, Trump's opaque, dangerous, and bigoted executive order resulted in profound confusion across the country, as permanent residents attempted to reenter the United States. It moreover elicited much discombobulation within the administration itself. On Friday night, DHS purportedly determined that permanent residents were exempt from the ban. Then, the administration waffled, stating that green-card holders were barred as well. Permanent residents from the seven predominately-Muslim countries on the block list (Iraq, Iran, Sudan, Libya, Somalia, Syria and Yemen) would be forced to undergo additional screening and to obtain a waiver of some sort.
But by early Sunday, the administration had oscillated yet again. White House Chief of Staff Reince Priebus stated in an interview that "moving forward," the ban would not impact permanent residents. Yet he also implied that those hailing from the seven blocked countries could be barred from reentry if they visited them in the meantime.
It seems that by Sunday evening, the matter was finally settled. Kelly released a statement explaining that he considers "the entry of lawful permanent residents to be in the national interest." The wording of Trump's order indicates that exceptions to the travel ban could be made according to "national interest." Thus, Kelly's statement offers no contradiction: all permanent residents are covered on the basis of "national interest."
G/O Media may get a commission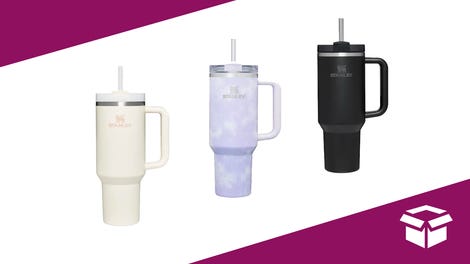 Up to 45% off
Stanley Cup Sale
Green-card holders can only be banned from the U.S. upon "receipt of significant derogatory information indicating a serious threat to public safety and welfare." Kelly's statement also stipulates that "lawful permanent resident status will be a dispositive factor in our case-by-case determinations." We don't yet know whether this section of Kelly's statement has deleteriously affected permanent residents arriving back into the country.
But ultimately, what did this shilly-shallying accomplish? Permanent residents shouldn't be banned from the United States because none of the traveling foreigners and refugees being targeted should be barred from our borders. And make no mistake: this clarification regarding permanent residents does not aid those whose visas have been rendered invalid. It certainly does not facilitate easier entry for refugees fleeing war-torn countries. We have merely witnessed another example of this administration's gross incompetence, paired with prejudice-fueled impulsivity. The Trump administration is nothing more than an embodied id with undeserved power and deadly, poorly-conceived ideas.