The inimitable Pedro Almodovar was honored last night at New York's Museum of Modern Art. Instead of a red carpet, there was a wall of roses. The clothes were almost as lovely. But, as always, there were a few exceptions and near-misses.
Karl Lagerfeld arrived in his signature sunglasses and fingerless gloves. Hard to believe this man was once a child like you and me (albeit a child who already spoke three languages by the age of six, kept to himself, and chose to read Tolstoy's War and Peace and Buddenbrooks by Thomas Mann for his first "real" books, according to this interview). Blake Lively is so pretty and cheerful, and Baz Luhrmann once wrote that Blake "makes you feel that she, and life, are going to go on forever." I don't know if I feel all that from this picture. What I do feel is that the top of her dress is so tight it makes her boobs look almost as long as they are wide, and while I like the concept of hairy fringe-as-peplum, I hate the execution. Pedro Almodóvar is just pleased as punch for this well-deserved night of honor.
Let's take a moment to appreciate how lovely Elizabeth Olsen looks, especially in the first photo on the left that conveniently crops out the scrolldown fug portion of her dress. Mullet hems can be fun in light fabrics that have a lot of movement. However, when you take a perfectly tailored, black cocktail dress and slap a mullet hem in the back, that's just like a wearing a hair mullet with a nice tux. I love it when Emma Stone rocks a beehive. I don't care for the crumpled up wad of fabric on her shoulder, but other than that, her dress is striking, well-fitting, and really just so glamorous against a wall of roses.
G/O Media may get a commission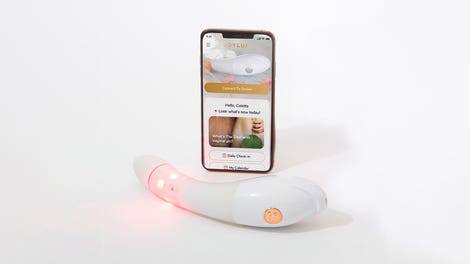 $50 Off
Joylux vFit Gold Device
Miranda Kerr is in my favorite dress of the night. It feels like the cooler, more devilish older sister to Blake Lively's dress. The print is mind-bogglingly good, especially the illusion of wide zippers criss-crossing the bodice, and it was a smart choice to wear her hair slicked back as a contrast to the architecture of the dress. Àstrid Bergès-Frisbey looks a little doe-in-the-headlights (which is probably how I would look I had to look in the direction of a hundred flashing bulbs); I can't put my finger on it, but she has a certain gamine quality that saves this fairly conservative dress from looking too uptight. Diane Von Furstenberg normally looks like an untouchable goddess, but lordy, she's wearing Pacman pants, and what looks to be a short-sleeved jacket with a black fur collar. Diane, you mustn't do this again!
I was all ready to praise model Joan Smalls' cute cocktail dress when I realized this cap-sleeved, lace number also comes with illusion netting sleeves. Why???? And then I noticed the sad, droopy bow around her waist, and also what is either a lace shawl or perhaps lace arm warmers, and I thought: Complicate your quest for truth, not your cocktail dresses. I know that some people have mad love for Olivia Wilde, but this dress just confirms how bland I've always found her. Is there anyone who will defend SJP's outfit? She's wearing a SLEEVELESS OVERCOAT with a gown that makes her look—literally—like a target.
Here comes the glitter crew. Anna Wintour still bores me in every way, but I gotta give credit when credit is due—her sparkly, midnight blue Chanel suit is all that and a bag of chips. There are few people who can convince me that the whole dress over pants thing is a good idea, but Chloe Moretz is one of those people. Karen Elson is kind of monochromatic and could have maybe added a pop of color to her lips, but I really dig the look of a pale, fitted jacket over an unstructured dress.
Look pals, it's Drew Barrymore! Drew, it's been forever. You look saucy in that little fitted jacket and your dude is quite handsome. Nora Zehetner did minimalists everywhere proud with a simple, strapless, fitted orange mini, perfectly complemented with clean makeup, slicked back hair, and some really kickass, lace-up heels. Rosie de Palma, who, might I add, was was brilliant in Women on the Verge of a Nervous Breakdown, looks mysterious clad mostly in black. I love the subtle touches of gold on her bag and the golden talons on her shoulders.
Hey, hey! It's the brilliant Cindy Sherman standing with the brilliant Marina Abramović. I hate it when fashion dictates what is "age-appropriate" clothing. It depressed me when I was five and wanted to wear my mom's clothes, and it depresses me now when my mom feels like she's too old to wear mine, and hate worrying if people will judge me for wanting to dress exactly the way I dressed as a child. My point is that Cindy Sherman is wearing a very Alice in Wonderland blue dress with a Peter Pan collar, and her silver mary janes that remind me of Dorothy's red shoes from Wizard of Oz — and I couldn't give less of a rip that she's a woman in her fifties. Karen O was my style goddess when I was in college. I loved how scrappy her outfits were. Nowadays her style is more refined—if you can call leather pants refined, and I think you can. Still, I wish she wasn't carrying such a generic bag. Wendi Deng Murdoch and Tamara Mellon look tall, wealthy, and poised. Which they are, as we are looking the wife of Rupert Murdoch and the former co-founder of Jimmy Choo, respectively.
Are those black roses on the top half of Felicity Jones's dress? She always looks great in updated retro shapes, and this dress is no exception. Spanish actress Elena Anaya went for a clean shift dress in a dusty rose hue, and we cap off the night with Amanda Brooks, who looks like she's attending a very different event than everyone else. Rock of Ages on Ice?