Aw man, not this human egg-fart again. Noted social butterfly and vulnerable-starlet-betrayer Sam Lutfi is back in the "news" again, having released a number of private texts that he claims are from a hysterical, emotionally dysfunctional Britney Spears. I don't know if they're actually from Britney or not, and I really really don't care—the entire point of having friends is that you can be less than your best self in front of them and they still know who you are as a human being. Friendship is safety. Sam Lutfi is a fucking ringwraith of friendship. SAM LUTFI WILL STAB YOUR EMOTIONS WITH A MORGUL BLADE.
Lutfi was prompted to post the texts — which are undated and may or may not be from Spears — just past midnight on Tuesday after a fan tweeted him asking "when will her greedy father [Jamie] release her from this conservatorship?!!"

He answered, "Hmm good question, here's an old text from her you be the judge"

[REDACTED]

Eight minutes later, Lutfi posted without comment another equally illegible text that reads, [REDACTED]

Fans immediately struck back, asking Lutfi, who was hit with a restraining order from Spears' camp in 2008, when he will stop talking about Spears. "Not till the truth is out, so I can have my life back as well," he wrote in response, soon releasing one long text split into two tweets.
I AM NO MAN, SAM LUTFI. (You'll have to click through to Radar to read the actual texts. I cut them because LEAVE BRITNEY ALONE.) [Radar]
---
Lea Michele says that Amber Riley has been a great help in coping with Cory Monteith's death. Which makes Sense, because Amber Riley is obviously a flawless jewel from heav'n above.
One friend in particular just so happens to be this year's Dancing With the Stars champion. "I've got to give a shout out to Miss Amber Riley," the brunette star gushed. "She's the best. I love her so much. I'm so proud of her [and] she's been there for me so much through everything. I'm so thankful this year for those friends and my family."
G/O Media may get a commission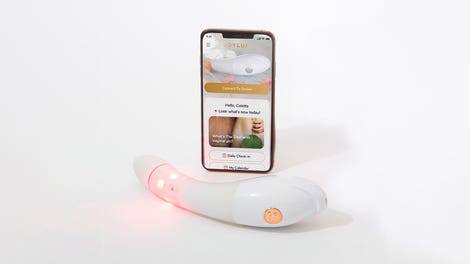 $50 Off
Joylux vFit Gold Device
Is it weird if I feel exactly the same way about Amber Riley? And we've never met? [Us]
---
Perez Hilton is trying to make a reality show called Gay Dads of New York, starring himself.
No network is attached to the project yet, but Hilton has promised that Gay Dads of New York will feature "love, humor and drama".

"What will it not be? Trashy or boring," Hilton vowed in a press release.

He continued: "Up until now people know me more for my opinions than who I am. This show will give viewers the opportunity to get to know the 'real' Perez Hilton and my family, as well as some other really dynamic gay dads, and the women that make up their support system.

"I am a recent transplant to New York City, looking for friends and open to - hopefully - love. To new beginnings and this exciting new venture!"
Nah. [DigitalSpy]
---
Here are a bunch of pics from Sherlock season 3: now featuring DR. JOHN WATSTACHE. [tv.com]
George Clooney says that celebrities who use Twitter are "morons." [DigitalSpy]
Lady Gaga did an interview dressed as a caryatid. #3YearsOfArtHistory #FinallyWorthIt [JustJared]
The men suspected of breaking into and robbing Keri Russell's house while she was asleep are literally named Ronald and Steffon Swindell. They are also suspected of being cartoon bandits with mustaches. (Also, fuck those creepy assholes.) [Us]
Mariah Carey wore two dresses because she cares about the Baby Jesus twice as much as you do. [E!]
I don't give a fuuuuuuuuuck about this! [Us]
Benedict Cumberbatch and Jennifer Lawrence are "the king and queen of Tumblr." R U GUYZ HIRING A COURT JESTER PLZ ADVISE [HuffPo]
Mary J. Blige performed at the Starbucks where I used to skip class in high school. So I basically have a Grammy now. (Also, go YWCA Girls First!!! Send them money! They are awesome!) [SeattleTimes]
STAY STRONG, LOVERS #billyjoelweek