Steve Rannazzisi, a comedian who stars in the FX fantasy football series The League, told an interviewer in 2009 that he was in the South WTC tower on 9/11, and made a narrow escape from his job at Merrill Lynch before the second plane hit, then repeating that story for years. This week, though, he was forced to admit that he fabricated the entire story, which is incidentally also the admission of being a piece of shit.
The Times noted that his story was told in "elaborate detail" on WTF with Marc Maron, including the floor from which he supposedly escaped and how it felt to be inside the South tower when the North one was hit. However, when Rannazzisi was called out for inconsistencies in his story, he was forced to admit he was a liar:
Confronted this week, though, with evidence that undermined his account, Mr. Rannazzisi, after a day of deliberation, acknowledged on Tuesday that his account was fiction. Actually, he had been working in Midtown that day, and not for Merrill Lynch, which has no record of his employment and had no offices in either tower.

"I was not at the Trade Center on that day," he said in a statement provided by his publicist, Matthew Labov. "I don't know why I said this. This was inexcusable. I am truly, truly sorry."

[...]

His interviews, though, several of which remain posted on the Internet, show that a decade after the Sept. 11 attacks, Mr. Rannazzisi was still relating a harrowing experience. In a 2011 interview on the podcast "Sklarbro Country," Mr. Rannazzisi said that he had gotten a good severance package from Merrill Lynch and that he clearly understood that Sept. 11 was a sensitive topic. "I've spoken about it before," he said. "I just don't ever want to feel like, anyone, I am cashing in or anything like that."
The Times notes that he's not the sole person who's attempted to gain notoriety or sympathy (or whatever) from lying about having survived the World Trade Center attacks—the most extreme honor goes to Tania Head, who was chronicled in the excellent documentary The Woman Who Wasn't There—but he may be the highest profile, with a Comedy Central special airing this weekend and sponsorships from Buffalo Wild Wings and the NFL in addition to his sitcom role. Also, this was not his only untruth: he said his girlfriend at the time, now his wife, was also meant to work in the towers that day, but in fact she was scheduled to work at the World Financial Center.
His statement:
"It was profoundly disrespectful to those who perished and those who lost loved ones," he said. "The stupidity and guilt I have felt for many years has not abated. It was an early taste of having a public persona, and I made a terrible mistake. All I can ask is for forgiveness."
G/O Media may get a commission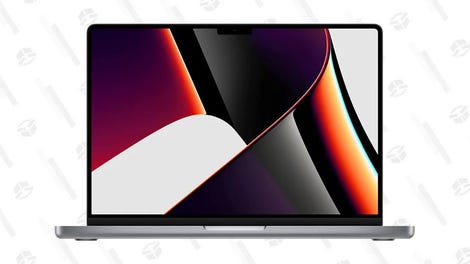 Save $300
2021 14" 1TB MacBook Pro
He's also tweeted about it Wednesday morning.
Why would anyone do this in the first place? The Times insinuated that his sponsorships may be up in the air, but more pressingly it seems someone should get Rannazzisi a therapist.
---
Contact the author at julianne@jezebel.com.
Image via Getty