The anti-rape activists who crashed an admissions session at Columbia University say the school is threatening them with unspecified disciplinary action. Members of No Red Tape say several of their members were sent letters from the school's Office of Judicial Affairs and Community Standards, warning them that their February 10 protest was a violation of school policy.
No Red Tape marched into an information session for prospective students and their parents at Columbia's Lerner Hall, holding signs reading "Keep Students Safe" and "Education Prevents Violence." In a letter dated February 17 that No Red Tape provided to Jezebel, Kelly Joyce of the Office of Judicial Affairs writes that the protest violated school rules:
As indicated in the Rules of University Conduct, demonstrations hold value in our community, however, there are rules designed to balance the "concurrent rights of both the University community as a whole and demonstrators." (Section 440). More specifically, pursuant to Section 443 (a)(13): A person is in violation of these Rules when such person individually or with a group, incident to a demonstration, including a rally or picketing;...briefly interrupts a University function.

Further, please note that access to Lerner Hall is limited to Columbia University affiliates. Individuals hosting guests are responsible for the actions of their guests. If either party engages in inappropriate behavior, it may result in disciplinary action, including but not limited to the revocation of access to the building or hosting privileges.

This letter should serve as a reminder for you to abide by all Columbia University policies, including but not limited to the Essential Policies, Guide to Living, respective college bulletins, University Event Management Policies, and Lerner Hall Policies. Additional violations of policy may result in adjudication through your school's discipline process.
In response, No Red Tape issued a statement that reads, in part, "It is deplorable that Columbia continues to retaliate against activists and punish survivors for speaking out about the trauma they have experienced while failing to discipline rapists for the violence they inflict on others." They add:
It is clear from the disciplinary threats we have received that the University does not want prospective students to know that they have implemented unacceptably weak prevention programs, that even under national scrutiny, they continue to hand down short suspensions to students found responsible for gender-based violence, and that they let rapists be RAs and TAs. They do not want prospective families to know they care more about their public image than the safety of their students.

This is the college experience we do not want any prospective students to ever have. We do not want them to know what it feels like to walk into the library and see their rapist, or to leave their dorm every morning and have to wonder where on campus they will see the person who raped them throughout each day. We do not want them to know what it feels like to have their case dismissed and their needs ignored because the administration believes that rape can only occur between a man and a woman. We do not want them to know what it feels like to be forced to take a leave of absence from school because their trauma is a bigger liability to the administration than the continued presence of a rapist on campus.
G/O Media may get a commission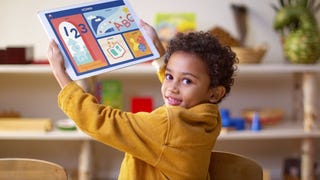 30-Day Free Trial
Homer Learn & Grow Program
They add, "As long as our administration refuses to meet the needs of survivors and our campus remains unsafe for students, we will not be silenced."
Kind of sounds like telling them to stop protesting is going to have the opposite effect, no?
Image via Facebook/No Red Tape