One of CNN's news anchors has decided to come out, but it's not the one you're probably thinking of. In his upcoming memoir, Don Lemon, the network's weekend prime-time anchor, reveals that he's homosexual.
Lemon's book Transparent won't go on sale until next month, but he discusses his sexual orientation in a New York Times article that appears in today's paper. The memoir is mainly about his career in TV journalism, but he says he knows what's going to get the most publicity: "People are going to say: 'Oh, he was molested as a kid and now he is coming out.' I get it."
Though he's been out among friends and co-workers for years, he says he's still scared about the reaction people might have. "I'm talking about something that people might shun me for, ostracize me for," he said. He told the paper that he's particularly concerned because of his race:
"It's quite different for an African-American male," he said. "It's about the worst thing you can be in black culture. You're taught you have to be a man; you have to be masculine. In the black community they think you can pray the gay away." He said he believed the negative reaction to male homosexuality had to do with the history of discrimination that still affects many black Americans, as well as the attitudes of some black women.

"You're afraid that black women will say the same things they do about how black men should be dating black women." He added, "I guess this makes me a double minority now."
Lemon was originally approached about writing a short inspirational book, but wound up going into his personal life. He struggled with whether or not to leave passages about his sexual orientation in the book, but ultimately decided it was time to come out publicly. In response to the inevitable question about whether he thinks other journalists should come out of the closet, he said:
"I think it would be great if everybody could be out ... But it's such a personal choice. People have to do it at their own speed. I respect that. I do have to say that the more people who come out, the better it is for everyone, certainly for the Tyler Clementis of the world ... I think if I had seen more people like me who are out and proud, it wouldn't have taken me 45 years to say it, to walk in the truth."
G/O Media may get a commission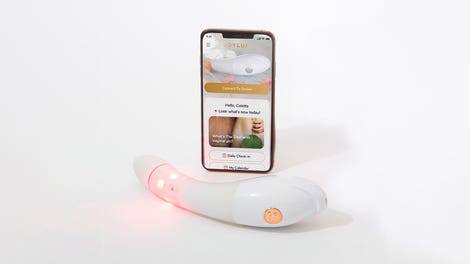 $50 Off
Joylux vFit Gold Device
In a Tweet late Sunday night, Lemon shared a link to the article with his 90,000 followers, writing, "wanted to be the firs to share with u. thanks for your support!!!" He also released a statement saying the book is dedicated to Clementi and other young gay people who feel they're alone. From LGBTQ Nation:
"Today I chose to step out on faith and begin openly living my own truth. And let me say right up front that I hope many of you will be inspired to do the same thing in your daily lives. Some of the things I've chosen to reveal in my book Transparent were very difficult to share with even those closest to me.

There was a time when I was terrified of revealing these things to the person I love most in this world – my own mother. But when I finally mustered the courage to tell her that I had been molested as a child and that I was born gay, my life began to change in positive ways that I never imagined possible. Yet I still chose to keep those secrets hidden from the world. I, like most gay people, lived a life of fear. Fear that if some employers, co-workers, friends, neighbors and family members learned of my sexuality, I would be shunned, mocked and ostracized. It is a burden that millions of people carry with them every single day. And sadly, while the mockery and ostracizing are realized by millions of people every day, I truly believe it doesn't have to happen and that's why I feel compelled to share what I've written in Transparent.

As a journalist I believe that part of my mission is to shed light onto dark places. So, the disclosure of this information does not inhibit in any way my ability to be the professional, fair and objective journalist I have always been."
It's depressing that Lemon had to add that last line, but hopefully his decision to come out will make it so one day homosexual people can be honest about who they are without fear of risking their professional reputation.
Gay CNN Anchor Sees Risk In Book [NYT]
@DonLemonCNN [Twitter]
CNN News Anchor Don Lemon 'To Walk In The Truth' - Reveals He Is Gay [LGBTQ Nation]