Soldiers and police in riot gear moved in on American Indian protesters demonstrating against the Dakota Access Pipeline Thursday, arresting at least 141 people and spraying pepper spray and firing bean bag rounds at the crowd. Meanwhile, the Clinton campaign issued a statement that said very little.
NBC reports that the 141 arrests were all made by midnight, as law enforcement officials start aggressively trying to roust the demonstrators, who are largely members of the Standing Rock Sioux and other tribes there to support them. They are camped on private land owned by the pipeline developers. The Standing Rock Sioux say the pipeline infringes on their tribal land, endangers historic artifacts and sacred sites, and hurts the environment. An energy industry lobbying group continually quoted in various media outlets says that's not true.
The Obama Administration has repeatedly asked Energy Transfer Partners, the company building the pipeline, to voluntarily halt construction while the Army Corps of Engineers completes a review of the building process so far and how it was approved. Energy Transfer Partners has ignored requests from the Justice Department, the Department of Interior and the Department of the Army and kept building; at the same time, law enforcement is using concussion grenades, mace, and a sound cannon device called an LRAD against the protesters. Democracy Now! has reported that a private security firm without a license in North Dakota unleashed dogs on the protesters, and that police are routinely strip-searching those arrested for misdemeanor offenses.
Police, meanwhile, say some protesters have thrown Molotov cocktails, and one woman with a .38-caliber revolver was arrested after allegedly firing three shots at police. No one was hit. The Standing Rock Sioux released a statement condemning any violence from protesters, saying, in part, "Any act of violence hurts our cause and is not welcome here. We invite all supporters to join us in prayer that, ultimately, the right decision—the moral decision—is made to protect our people, our sacred places, our land and our resources."
G/O Media may get a commission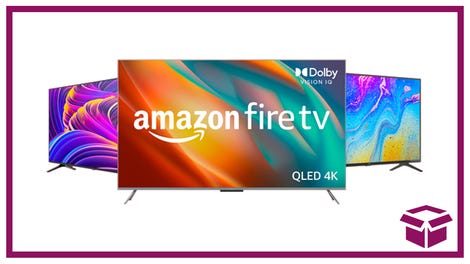 Ooh. stunning.
New Amazon Fire TVs
The Clinton campaign was forced to weigh in, because this is getting rather serious. The Hill reports that they have, in essence, urged everyone to play nice:
"We received a letter today from representatives of the tribes protesting the construction of the Dakota Access pipeline," said Clinton spokeswoman Xochitl Hinojosa in a statement.

"Now, all of the parties involved—including the federal government, the pipeline company and contractors, the state of North Dakota, and the tribes—need to find a path forward that serves the broadest public interest," Hinojosa added.
Hinojosa also said it's important that "everyone respects demonstrators' rights to protest peacefully, and workers' rights to do their jobs safely."
It's hard to imagine what that could possibly mean. This is a battle where both sides are very clearly drawn, and the Clinton campaign may have to take an actual stance one of these days.
Meanwhile, four U.S. Senators, including Bernie Sanders, wrote a letter to President Obama earlier this month asking him to suspend the pipeline's construction permits, since Energy Transfer Partners won't halt work voluntarily.