In the lead-up to New York's April 19 primary, both Hillary Clinton and Bernie Sanders have released NY-centric ads focusing on the fact that they're not hideous bigots. Sanders' ad focuses on his "New York values," as a subtle fuck-you to Ted Cruz, while the Clinton ad focuses on the terrifying nightmare that is a potential Trump presidency.
The Clinton ad, "Stronger Together," premiered on April 10, and reminds you that Donald Trump once said that women who have abortions should be punished and that Mexican immigrants are rapists. Those are sentiments that go against "everything New York and America stand for," Clinton says in a snippet of a speech displayed in the ad.
"With so much at stake, she's the one tough enough to stop Trump," the voiceover says.
The Sanders ad, "Bolder," went up the same day. It's a little less dystopian and a little more aspirational, praising "values forged in New York," and reminding you that Sanders is a "Brooklyn born native son, who knows what we know: we're all in this together."
Another person with significant ties to New York is, of course, one Donald J. Trump, who was greeted rapturously the other night by a crowd of Long Islanders. More than 15,000 people are said to have attended.
G/O Media may get a commission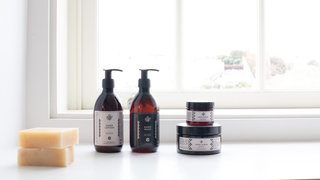 Exfoliate and Hydrate
The Handmade Soap Company
Trump and Clinton are both polling well ahead of their opponents here. Sanders only recently opened a New York campaign office, and the conventional wisdom is that he has little chance of beating Clinton in New York. Still, these ads make a good point together, especially in light of how rancorous the Democratic primary has become: Neither of our candidates are absolute garbage monsters hellbent on the destruction of a diverse and healthy civil society. It's not much, but it's something.
---
Clinton and Sanders at the last Democratic debate, March 9, 2016. Photo via AP