Are you a woman who is thinking about becoming a parent? Are you marginally famous? Congratulations, because ClearBlue will pay you to tweet a picture of your positive pregnancy test declaring that you are with child to the world.
On Thursday, Kendra Wilkinson, once known for lying underneath Hugh Hefner and being the funniest of The Girls Next Door, tweeted the following image with the important disclaimer "#spon":
Her exciting news was subsequently retweeted by Clearblue:
G/O Media may get a commission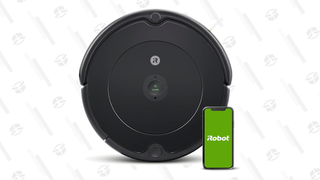 35% Off Black Friday Deal
iRobot Roomba 694 Robot Vacuum
Wilkinson is the second celebrity to jump on the ClearBlue pregnancy test bandwagon. A week earlier, Melissa Rycroft, a former contestant on The Bachelor, announced her pregnancy in an identical fashion:
Both these tweets were retweeted by ClearBlue's twitter account. As indicated by her mention that she'd done "preg planning 101" with ClearBlue's Digital Ovulation Test, Rycroft had previously worked with ClearBlue, appearing in videos about baby names and for Mother's Day that were posted on the brand's Facebook page. Tamera Mowry has also been associated with ClearBlue.
Both pregnancy tests Wilkinson and Rycroft are holding Clearblue® Advanced Pregnancy Test with Weeks Estimator, which is a relatively new pregnancy test they're selling that tells women roughly how pregnant they are; one to two, two to three or over three weeks. Both of their tests read "3+", which means they could have just peed on that stick and snapped a selfie but more likely, they took some other pregnancy test (maybe not even ClearBlue!) went to the doctor, got it confirmed, waited the normal three months you're supposed to wait to tell the world you're pregnant and then let ClearBlue know they'd be tweeting out the picture. Who knows when during that period of time the test was actually peed on.
The slim likelihood that Wilkinson or Rycroft actually just woke up one morning, took a pregnancy test and then tweeted out the positive result makes the entire idea of a celebrity tweeting your pregnancy test with the super-catchy hashtag #clearblueconfirmed slightly less weird and scary, but not much. ClearBlue is a product produced by SPD Swiss Precision Diagnostics GmbH, a "joint-venture partnership between Procter & Gamble ("Proud Sponsor of Moms") and ALERE." I've contacted Procter & Gamble for comment on how much they've compensated Wilkinson and Rycroft for their participation and whether they'd like this hashtag to "catch on," so to speak. P&G clearly states on the ClearBlue Facebook page, among other sites and products, that, "Only your doctor can provide a reliable estimate of gestational age and only your doctor can monitor pregnancy progression. You should seek qualified prenatal care if you suspect you are pregnant." So if P&G would like #clearblueconfirmed to become a thing, there must be some consideration or concern about women tweeting their pregnancies and finding out that, whoops, they're not pregnant or even more sadly, they had a miscarriage, both of which are incredibly common happenstances.
Considering what we know about companies and the goals they have for social media, it's a safe bet they'd like this to catch on, as it's already been promoted on Facebook and Twitter. And even before that, in May, the company hosted a contest through the website The Bump encouraging expectant mothers to show off their baby bumps for a chance to win $5,000. It's just a new take on the business of being born.