As I have expressed here many times, clear is my favorite color, so imagine my delight when I noticed it has already appeared twice so far on the runway this New York Fashion Week. The fashion world is finally catching up to the splendor of synthetic see-through, as promoted by '60s go-go dancers, exotic supply websites, your dry cleaner and Simone Rochas around the globe!

Its most glorious, and glorified, presence was at Wednesday night's VFiles showcase in the collection of Song Seoyoon, the Seoul-born/New York-based designer who, earlier this year, landed in the finals of the Parsons x Kering Empowering Imagination competition for her work with "wearable garment bags"—which is to say, clear plastic as intellectual and visually pleasing textile. (NO WORD ON SWEAT FACTOR, BUT BEAUTY IS PAIN.)
On the VFiles runway, the models wore casual sportswear in angular, unexpected cuts and pattern/hue combinations that brought to mind this generation's obsession with culture-jamming, or a version of it, iconic logos. Slinky cut slip-gowns and snipped-apart pinstripe "suits" seemed to demystify the actual process of garment manufacturing, and their encasement in what Song identified as wearable garment bags added a layer of distance—of "don't touch"—to the creation. ("The mood... is informed by the reconciliation between opposite forces: Apollonian and Dionysian, high-end and low-end, fake and genuine," Song told Vogue in May. "Each look is covered by wearable garment bags to exchange the value of these two opposites, by letting a sheet of cheap plastic distract the viewer's attention from the finished garment.")

G/O Media may get a commission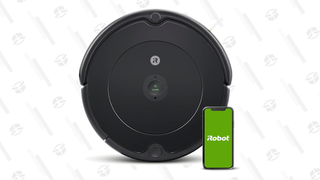 35% Off Black Friday Deal
iRobot Roomba 694 Robot Vacuum
But can you wear it?! Man, do I ever want to, but some pieces seem more floatable in public places that have nothing to do with VFiles than others. I'm obsessed with the rounded cocoon blouse/tube top situation on the top left there, and particularly the styling—hunter orange and khaki sweatpants and clear mules with socks, fuck yes—but the range of motion might be a slight bit prohibitive, though practical if you live in one of the world's rainier climes. The bag dress on the right, though interesting, is perhaps less so, considering like... I don't think that lady can move her arms much.
The other models are able to, though, as seen in this video of the runway. It also shows VFiles's other designers, Young Thug leaving his seat to fix the styling on a model, and performances by teen punks Unlocking the Truth, some litefeet dancers, and Playboi Carti.
I love these:
Pretty sure the look on the left is office-appropriate workwear.
Meanwhile, over at the Yeezy show, ya boy sent models down the runway in thigh-high rain boots that I believe someone on Twitter described as leg condoms. Despite the disastrous, poor treatment of the Yeezy models, which The Cut's Stella Bugbee detailed in a piece here, I would potentially wear these if I thought I could walk in them, which I definitely can't.
There are a full seven days left of New York Fashion Week, and a full 12 zillion more days left in fashion month beyond the City; please check back for updates on the smoking hot clear plastic trend. Thank you.