Last night, celebrities attended the UNICEF ball in their finest ball gowns. It turns out, sometimes a simple dress in a solid color is all a gal needs to look fabulous, and that's just what most of these celebrities did last night.
Man, that's a pretty sexy dress for a event supporting a children's charity. But, no matter! It is a great dress. Diane Kruger is not often one to do overtly sexy, but when she does, she always manages to still look high-fashion and interesting instead of just being like, Here are my boobs and my legs and my back and my ass crack, KTHX. Love the lace trim around her side cleav'. Love the sheerness up top and the the sheer layers down below. And well—her earrings and clutch are fab, too.
I'm not a Dax Shepard fan, but that skinny polka dot tie is pretty slammin'. Kristen Bell's style choices usually bore me to tears, but she looks amazing in this white, one-shoulder gown. It's so beautifully draped she looks like a marble statue. Smart choice to pair her dress with some tassel earrings and a silver clutch.
G/O Media may get a commission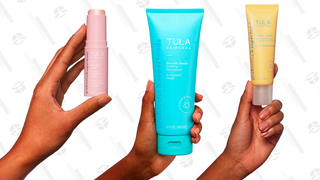 Man, these Hollywood ladies really KILLED IT last night. Melanie Fiona looked beautiful and vampy in her form-fitting black gown. The weaving interesting but not overdone. I love nothing more than a good black and white gown, especially when it's worn by someone as adorable as Jayma Mays. Kate Walsh looks good in royal purple. The draping is not as elegant as some of the other gowns last night, but she's glowing and statuesque in it all the same.
Eee! I love Barbara Davis dress SO MUCH. I blow gas in the direction of those who dare cry, "That is not appropriate for a woman over 60!" Well, metaphorical gas. The woman looks comfortable and the dress is extraordinary. I don't see a problem. Also: JOAN COLLINS WAS IN THE HOUSE LAST NIGHT. JOAN COLLINS. I'm sorry, but that woman can do no wrong. Sequined black jacket with classic Joan hair and cherry lips? I kneel by your feet and kiss thy toes.
The ruching on Nia Vardalos's gown looks sloppily done, and I'm not a fan of the ruffles on her skirt. All in all, it's an inoffensive dress. The earrings, however, are another story. Rose McGowan wore the only print of the night, and dang it was a pretty sexy one for an event hosted by a children's charity. But who cares, the children will get over it. She looks good in these sort of boudoir-esque, formfitting gowns. And it's always fun when Rose McGowan wears a rose print, tee hee.
The hugeness of Jenna Elfman's side ruffle dwarfs her head a little bit and her dress looks unintentionally bunched up. I love mint green dresses, but this one looks odd against Brooklyn Decker's uber-tan. Also, her milkmaid hair looks all rumpled, like said milkmaid went for a naughty jaunt in the woods with a lascivious prince.
Mary Hart always looks like the girl who was voted "Nicest smile" in high school, now all grown up. It's hard to make out the details of her dress, but it fits her gorgeously and the peek of shoulder is a nice detail. Nicole Ritchie went leather and cut-outs...for the children. I like the toughness of her dress, but I'm starting to find her shaggy bangs extremely irritating. Good hardware, though.