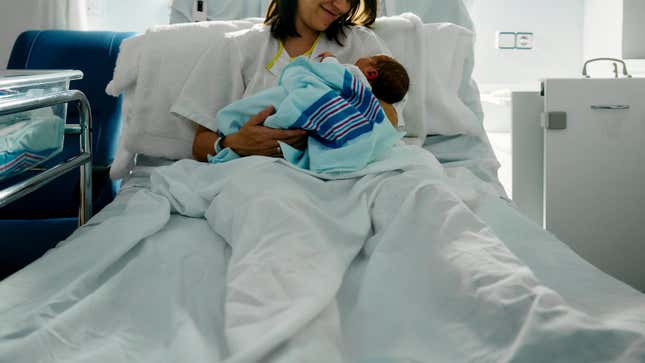 Quebec's Superior Court has authorized a class action lawsuit filed on Monday by two Indigenous women who say they were sterilized by doctors without their consent after their fifth births. The court says it's authorizing the suit on behalf of "all women of Atikamekw origin who have undergone surgery that has impaired their fertility without having given their free and informed consent since 1980," per the Canadian Press. A 2022 study from the Université du Québec en Abitibi-Témiscamingue found that at least 35 Inuit women in Quebec have been sterilized against their will since 1980.

Berkeley Law Professor Calls Out John Hawley's Transphobia
The lawsuit states that three doctors violated the Canadian Charter of Rights and Freedoms and Quebec's civil code and owe unspecified damages to the lead plaintiffs, identified as U.T. and M.X., as well as all Atikamekw women who have been subjected to forced sterilizations.
U.T. and M.X. both say they were subjected to tubal ligation without their consent after giving birth at their respective hospitals for a fifth time. One of the women alleges she didn't even know the procedure was being performed on her, while the other says she was coerced into having the procedure by her doctor. The suit also references a third, unnamed woman whom U.T. and M.X. have been in communication with, who was also allegedly coerced to have an unwanted sterilization.
The plaintiffs blame an "unnamed integrated health and social services centre" (called a "CISSS" in Quebec) for what was done to them, per the Canadian Press. The lawsuit states that the organization allowed these "criminal acts" to be "perpetrated with complete impunity by doctors."
In response to the lawsuit, the Guardian reports that the three doctors named in the suit have said that the requirement for patient consent for sterilizations "would interfere with the right of doctors to make their own decisions when delivering care to patients." It's an utterly head-spinning statement, as if doctors' ability to "make their own decisions"—including the decision to permanently eliminate someone's capacity for reproduction—is somehow more important than Indigenous women's bodily autonomy.
As in the U.S., where varying legal loopholes allow forced sterilizations to persist to this day, there's an extensive history of Indigenous women being subjected to these procedures without their consent in Canada. A 2021 report shared by the Canadian government acknowledged "a significant power imbalance between Indigenous women and their doctors," and that this is "complicated by language and cultural barriers" which can lead to Indigenous women signing consent forms they don't understand.
Here in the U.S., over a six-year period in the 1970s, physicians sterilized an estimated 25 to 42% of Indigenous women of childbearing age. At the height of the eugenics movement in the U.S. in the early 20th century, at least 70,000 people in 32 states were subjected to involuntary sterilizations that disproportionately targeted disabled people, poor people, and Indigenous people and people of color. Individual states' attempts to make amends for historical forced sterilizations have ranged from a reparations program in California to an outreach program in Utah to "apologize" to survivors.
Quebec Superior Court Justice Lukasz Granosik wrote in his judgment authorizing the class action suit this week, "It is quite possible to argue that sterilising a woman without her free and informed consent constitutes a civil fault, ethical misconduct, a criminal act and a violation of [Quebec's] charter of human rights and freedoms."