A little over a year ago, then-Defense Secretary Ash Carter announced that transgender individuals would be allowed to serve openly in the military. "We can't allow barriers unrelated to a person's qualifications prevent us from recruiting and retaining those who can best accomplish the mission," he said in the announcement.

Today, on Twitter, Donald Trump proclaimed that he would ban trans individuals from serving "in any capacity" in the military, an action his administration unfortunately has the unilateral power to take, since the policy is not a law. As an excuse, Trump, who tweeted exactly a year ago that he would "fight for" the LGBT community, cited the "tremendous medical costs and disruption that transgender in the military would entail." An estimated 2,450 transgender troops and 1,510 reservists currently serve in the military, according to a RAND Corp. study; it's currently unclear what the fuck will happen to them.
G/O Media may get a commission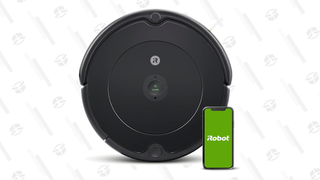 35% Off Black Friday Deal
iRobot Roomba 694 Robot Vacuum
In reality, of course, this is bullshit; transition-related medical costs would amount to "little more than a rounding error," according to 2015 research; the aforementioned RAND Corp. study, which was commissioned by the Department of Defense and published in 2016, echoed those findings. Trump, meanwhile, immediately moved on to criticize his Attorney General.
Oddly, Defense Secretary James Mattis is on vacation this week—a strange time for the president to be making such a significant announcement on his behalf. Questions to the Pentagon, meanwhile, are being referred to the White House, and CNN reported that the Pentagon was initially unaware of Trump's announcement.
From Politico's report:

A Republican lawmaker who asked not to be named said Mattis had essentially removed himself from the transgender debate, preferring instead to focus on getting Pentagon appointees confirmed. "He already had one hot potato in his hands and he didn't want another," the lawmaker said.

Capt. Jeff Davis, a Pentagon spokesman, said on Monday that Mattis is on "personal travel," this week, but said he would be "plugging in to several meetings back here remotely."
Although Sec. Mattis gave testimony at his confirmation hearing in January indicating he might leave Obama-era protections in place, he has warned, in a book published in 2016, against civilian leaders with "a progressive agenda" imposing "social change" that he claimed "are diminishing the combat power of our military." Since Carter's announcement last year, transgender troops have been able to serve openly, but new recruits had to wait until the end of a one-year implementation period, which ended July 1—and in June, Mattis delayed the implementation by six months, following what the Pentagon said was a request from the Joint Chiefs of Staff for more time to consider the decision.
"For the past year, transgender troops have been serving openly and have been widely praised by their Commanders, ​ ​as is the case in 18 allied militaries around the world including Israel​ and​ Britain," Palm Center Director Aaron Belkin said in a statement released after Mattis' delay announcement. "Yet members of Congress are denigrating the value of military service by transgender troops, and Service Chiefs are pressuring Secretary Mattis to continue the transgender enlistment ban despite having no new arguments or data to back up their long-discredited assertions.

"In light of the success of transgender military service, the extensive research confirming that inclusive policy promotes readiness, and the sad history of 'don't ask, don't tell,' loyally-serving transgender troops deserve to know whether Secretary Mattis stands by the claim he made at his confirmation hearing that LGBT troops can indeed serve in a 'lethal' military. Stonewalling on full inclusion will, just like 'don't ask, don't tell,' compromise military readiness."
According to an Axios reporter, an administration official that sounds very much like his name rhymes with Beev Cannon outlined a typically heartless and entirely political reason for this decision:

"This forces Democrats in Rust Belt states like Ohio, Michigan, and Wisconsin, to take complete ownership of this issue," the quote reads. "How will the blue collar voters in these states respond when senators up for re-election in 2018 like Debbie Stabenow are forced to make their opposition to this a key plank of their campaigns?"
Alternatively: how will the approximately 4,000 troops impacted by this decision deal with the fact that they're apparently no longer welcome at their jobs? This administration doesn't really give a shit!
The House voted down a proposal earlier this month to prevent the Pentagon from funding gender reassignment surgeries. A Pentagon official confirmed with CNN that Mattis called Rep. Vicky Hartzler, the author of the provision, to urge her to withdraw the amendment. Foreign Policy reports, however, that Mike Pence has been quietly working to push Congress to include similar amendments in the Pentagon spending bill, with House Republicans this week introducing three new amendments that would prevent the Pentagon from using federal dollars to "provide medical treatment related to gender transition." Sounds like a really good use of their time and energy.
A statement released today by the ACLU reads:
President Donald Trump announced today that he is barring transgender people from serving in any capacity in the U.S. military.

Joshua Block, senior staff attorney with the American Civil Liberties Union's LGBT & HIV Project, had the following reaction:

"This is an outrageous and desperate action. The thousands of transgender service members serving on the front lines for this country deserve better than a commander-in-chief who rejects their basic humanity.

"Let us be clear. This has been studied extensively, and the consensus is clear: There are no cost or military readiness drawbacks associated with allowing trans people to fight for their country. The president is trying to score cheap political points on the backs of military personnel who have put their lives on the line for their country.

"There is no basis for turning trans people away from our military and the ACLU is examining all of our options on how to fight this. For any trans service member affected by today's announcement: Please get in touch with us, because we want to hear from you."
If you're one of the several thousand people potentially impacted by this decision, please reach out to the ACLU for assistance, and feel free to contact us at the email below.