In the latest issue of Elle Canada, supermodel Cindy Crawford, for the very first time, is addressing the supposedly untouched photo of her that leaked in February. "Why would seeing a bad picture of me make other people feel good?," she asks.
Via Elle Canada:

Last February, a news anchor for the U.K.'s ITV News posted what she suggested was an unretouched image of Crawford taken from an old shoot with Marie Claire. It became a viral sensation. "I felt that [the journalist] was inauthentic because she acted like this was great but she didn't check if I wanted this out or if it was a real picture. Why would seeing a bad picture of me make other people feel good? I felt blindsided. I was very conflicted, to be honest. The story had run a year and a half before, and the picture of me in that outfit was from the bust up. I know my body, and I know it's not perfect, but maybe I have a false body image; maybe I think I look better than I do. I think that most women are hard on themselves. We think we look worse than we do. So I assumed I fell into that category, even though that picture didn't reflect what I saw when I looked in the mirror—even in the worst dressing-room lighting."
While the image was met with adulation by most online women communities and celebrity gossip sites, Crawford (and the Marie Claire photographer) denied that it was real, claiming that the photo had indeed been photoshopped with the purpose of making her look worse. The model reiterates that the photo had been altered to Elle Canada:
"We spoke to the photographer, and he was very upset because he didn't put it out there. He said: 'Cindy, I'm going to send you the real one and it's nothing like that. It's clear that someone manipulated that image to make whatever was there worse.' It was stolen and it was malicious, but there was so much positive reaction [to the image]."
G/O Media may get a commission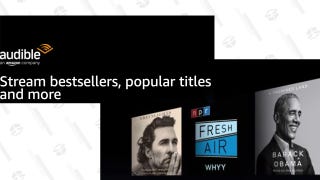 FREE
Audible Premium Plus 3-Month Free Trial
Despite feeling hurt that the image was altered and leaked, she is happy that it's had a positive effect on women's lives:
"Sometimes, the images that women see in magazines make them feel inferior—even though the intention is never to make anyone feel less. So somehow seeing a picture of me was like seeing a chink in the armour. Whether it was real or not isn't relevant, although it's relevant to me. I don't try to present myself as perfect. It put me in a tough spot: I couldn't come out against it because I'm rejecting all these people who felt good about it, but I also didn't embrace it because it wasn't real—and even if it were real, I wouldn't have wanted it out there. I felt really manipulated and conflicted, so I kept my mouth shut."
---
Asked about her recent decision to come out, Ellen Page told Out that she was motivated by her role in the upcoming movie Freeheld, the biopic of Laurel Hester (played by Julianne Moore), a New Jersey police lieutenant, who had to fight for pension benefits for her sick partner, Stacie Andree (Page):

'I remember thinking, 'Ellen, how in God's name could you make this film and not be out?' What's interesting to me is how long it took to make the movie — for it to finally come together — and how my internal progression toward coming out was naturally in line with it. Stacie and Laurel's story is incredibly inspiring and did take a lot of courage, particularly in a time of such unimaginable difficulty. It really did make me go, 'Dude, just tell people you're gay. Just get over yourself, honestly, and support those who are not as privileged.' It's like, 'You have fucking privilege, so do something with it.''
[Page Six]
---
Congrats, you crazy kids!
13 years #happyanniversary "I love you not only for what you are, but for what I am when I am with you. I love you not only for what you have made of yourself, but for what you are making of me"
P.S. I am rewatching Buffy and, once again, it's very good.
---
---
Contact the author at madeleine@jezebel.com.
Images via Getty and Instagram.