It's always a gift when a new person discovers Ansel Elgort, like that moment when your roommate finally smells the weird thing you've been smelling in the bathroom, or getting stung by a jellyfish and having to sit in the sand by yourself covered in pee and then a bunch of other people in your group also get stung by jellyfish. It's especially satisfying when that person is longtime New York Post gossip columnist Cindy Adams, an 87-year-old kook who in 2003 was seen shoving a gourmet dog treat in her mouth, chewing it up, spitting it out onto a china plate courtesy of the Park Avenue Regency Hotel and serving it to her Yorkie.

Today, one might say that Ansel Elgort was the proverbial dog treat, which I suppose makes me Cindy Adams' beloved dog Jazzy (R.I.P.), eagerly devouring regurgitated bits of part-time DJ. Adams's most recent Page Six column took her to a screening of Elgort's new film Baby Driver, which she noted, twice, was not attended by any of the other stars of the film:
He's now in TriStar's "Baby Driver" starring Kevin Spacey, who didn't show for the screening. Also Jon Hamm, who didn't show for the screening. Also Jamie Foxx, who didn't show for the screening. Ansel, playing a driver named Baby, showed. His rep whispered: "He looks like a movie star."
Adams dismissed Elgort's breakout film The Fault In Our Stars as "some romance film" in a searing parenthetical and remarked that she has "blouses older" than him, which is probably a true fact. It is also rather savagely brought to our attention that Ansel was "spit polish perfect" in appearance while everyone else was dressed casually.
Unfortunately, he did not appear to win any points with the columnist in their one-on-one conversation, where he said the following:
"In this movie, I play a nice innocent guy who likes to drive but gets mixed up with bad boys and pulled into bad stuff by Kevin Spacey. Because of tax breaks, we filmed in Atlanta. Atlanta's nice but has different vibes. New York is the tops of everything."
G/O Media may get a commission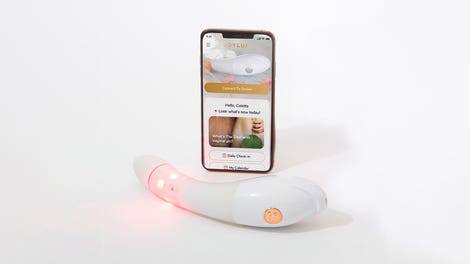 $50 Off
Joylux vFit Gold Device
Adams ended the column by noting, again, that "no stars in the movie showed but Ansel," and marveling at the fact that celebrities like Anne Hathaway showed up for the screening.
"They must know something I don't," she muses. Cindy—thanks for this.