A group within the Church of England that successfully advocated for female bishops is now recommending that church liturgy alternate between "He" and "She" when referring to God. A member of the group, Rev. Judy Stowell, tells the Guardian that exclusively referring to God as "He" gives worshippers a "deficient understanding" of the nature of the divine.
The group is called Women and the Church (WATCH), and with their urging, the church consecrated its first female bishop, the Right Reverend Libby Lane, in January, and the second and third, the Rev. Canon Alison White and the Venerable Rachel Treweek, both in March. According to the Guardian, during recent discussions among the WATCH steering committee, the group has discussed advocating for both male and female language in referring to God, and has issued a call for bishops to encourage "more expansive language and imagery" in relation to God's image.
In a press release, WATCH writes, "Orthodox theology teaches us that all human beings are made in the image of God." Presumably that means all human beings.
The only counter-argument here is either "tradition," which is becoming increasingly less persuasive, or if someone is willing to argue with a straight-face that God somehow possesses more physically male features than female ones. A spokesperson for the Church of England's headquarters at Lambeth Palace told the Guardian that any change to the formal church liturgy would require "would require consent, revision and final approval of the General Synod. Even prior to that point there would need to be substantial consultation with the Liturgical Commission."
---
Contact the author at anna.merlan@jezebel.com.
Public PGP key
PGP fingerprint: 67B5 5767 9D6F 652E 8EFD 76F5 3CF0 DAF2 79E5 1FB6
G/O Media may get a commission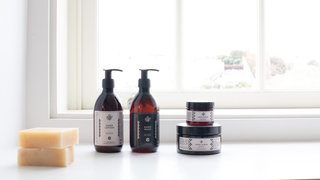 Exfoliate and Hydrate
The Handmade Soap Company
Bishop Libby, center, after her January consecration. Image via Facebook/WATCH