Since opening its doors in 1977, children's pizzeria and arcade Chuck E. Cheese has steadily employed a group of hard working robot musicians as the house band. But that era—a time when an animatronic dinosaur keyboardist or chicken backup singer could find gainful work in an American restaurant chain—might soon come to an end.
Why? Is it because of Jasper T. Jowl's rumored cocaine problem? The Fleetwood Mac-esque couple swapping that's said to have occurred between Mr. Munch, Helen Henny, Pasqually the chef-turned-drummer, and Chuck E. Cheese himself? Or is it simply that the band hasn't been the same since Crusty the Cat was replaced in '79?
No, none of the above—though likely true—is what's lead to the potential disbanding of Munch's Make Believe Band. Rather, it's that children no longer like them.
CNN reports that Chuck E. Cheese is starting by renovating "four locations in San Antonio, Texas, and will then renovate three restaurants in the Kansas City, Missouri, area" to see how a new, more streamlined Chuck E. Cheese will go over with their customers:
The revamp comes as the restaurant chain is looking to reengage families and kids with a "modern experience," said CEC Chief Executive Tom Leverton. The redesigned locations also feature a dance floor where a live Chuck E. comes out to shake a leg with children. The animatronic bands were shown the door with the new design.
"It's the biggest thing we've done for the look and feel of Chuck E. Cheese for two decades," Leverton said. "The kids stopped looking at the animatronics years and years ago, and they would wait for the live Chuck E. to come out."
G/O Media may get a commission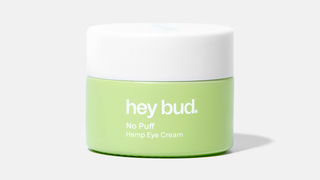 15% off
Hey Bud - No Puff Hemp Eye Cream
Now, they say, kids are looking for slicker animations like the ones they see in video games, while parents want a more enjoyable experience for themselves, as well:
The new design highlights changes the company had made to Chuck E. Cheese's menu, which now includes wraps, gluten-free pizza and a thin-crust pizza. The company is also touting a blind taste test in which diners rated Chuck E. Cheese's thin-crust pepperoni pizza higher than rival Pizza Hut.

"We are trying to make sure while we are focused on being a kid business, mom and dad will have a great experience," Leverton said. Parents "shouldn't have to sacrifice" when they take their kids out for dinner.
Next thing you know, they'll be removing all the children's urine from the ball pits and Chuck E. Cheese will become like every other cookie cutter venue for kids' birthday parties across America.
As for the future of the band, Jowls says he's gonna "go skiing in a bumfuck motel" with some truck stop waitresses he knows, while Henny and Pasqually are thinking of leaving the music biz behind for awhile to devote themselves to the chihuahua breeding business they run out of their trailer "outsida Sante Fe." Chuck E., always the most polished and well-oiled of the group, will attempt to pivot into acting. As for Mr. Munch, he says, "You can't live the way I do and expect to live long. It's only a matter'a'time before this ticker runs out and I plan to enjoy myself."
Thanks for all the good times, Munch's Make Believe Band. These kids can never kill the spirit of rock 'n' roll.