Some 33 years after Elvis's death, his personal doctor has continued the search for insight into the King's untimely demise. And he's found answers...in Elvis's colon. Let what follows serve as a warning to us all.
It's bad news for die-hard Elvis fans, who no doubt prefer to think of their idol as a man who was in full control of his bodily functions. But he was not: He suffered from bowel paralysis, and treatments at the time were such that Elvis had accidents on stage.
Just think about that for a second. He's singing "Suspicious Minds" — you can't see these tears are real — and he's crapping his pants. No, we couldn't see, but those tears were very, very real.
And the tears keep on coming: Elvis's colon was "5 to 6 inches in diameter" — that's about twice the size as your run-of-the-mill colon. It was 8 to 9 feet long (again, twice the normal size). And according to the autopsy reports, when the King passed away, he did so with 4 or 5 months' worth of waste in his gargantuan bowels.
This is equal parts nauseating and sad, but consider it a public service announcement. We've had much discussion of our bowels, our woes, our search for bloat-free solutions to keep things moving. And we laugh, because poop is funny. But it can kill you.
G/O Media may get a commission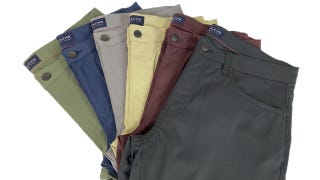 JACHS NY Fall Stretch Tech Pants
Chronic Constipation Killed Elvis Presley [NY Daily News]
For more on Jezebel's brave coverage of constipation, go here.