Hollaback!, the popular app that allows people to map and share their street harassment stories online, is partnering with Speaker Christine Quinn for a fancy schmancy new targeted system to report sexual harassment to New York City Council Members in real time. Here's the problem: Quinn supports the NYPD's (now unconstitutional) stop-and-frisk program, which I'd argue promotes a more harmful form of street harassment than getting hollered at. Basically, Quinn thinks some groups of people have a right to walk down the street without being harassed for no reason, but not others. Why should New Yorkers trust her to police their streets?
Yesterday, Hollaback! and Quinn, along with her wife Kim Catullo and Council Member Diana Reyna, detailed plans for "assessing the safety of neighborhoods across the city, block by block, using community-led safety audits," according to a press release. "By gathering information in a coordinated way, the city will be able to better direct resources and more effectively combat harassment," it read.
"People who violate women either by their actions or words won't be able to hide any longer," Quinn said. "We will know who they are, what they do, where they do it – and we will put it to an end. By coupling valuable information with targeted resources we will arm ourselves with the tools we need to put an end to street violence and harassment. Public spaces belong to all New Yorkers, and street harassment is not a price women and LGBT New Yorkers have to pay for walking around New York City's neighborhoods."
Mariame Kaba (@PrisonCulture), founder of Project NIA, an advocacy organization that supports youth in trouble with the law, argued in a series of tweets that it's "not as simple as throwing around slogans about 'keeping women safe."
G/O Media may get a commission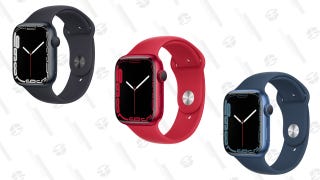 Up To $45 Off
Apple Watch Series 7
"Which women?" she asked. "What do you mean by 'safe?; HOW are you proposing to create that safety? ALL of these questions are gendered, racialized + age-specific, geographically-specific, etc... It isn't neat and it isn't simple."
If you use the app to submit street harassment information, it won't just get sent to the app's database — it'll also go to the City Council and the mayor's office. Reminder: the number of police stops in New York City soared 600 percent over the last decade, with Bloomberg as mayor. The NYPD made 533,042 stops last year, 87 percent of which were blacks and Latinos. Street harassment should be taken seriously, but Quinn's all too familiar with the practice to take this on — and not in a reassuring way.
[Storify]
Update: Emily May, Executive Director of Hollaback, sent us this clarification in an email:
[Sending information to the City Council and mayor's office is an] option on the app, but you do not have to opt into share your information with the Council. You can just report straight to Hollaback!, as always, where it will be mapped at nyc.ihollaback.org. We understand not everyone will want to report every experience to the Council.
Although not a correction, it's also worth noting that the apps allow for reporting of racialized harassment (including harassment by the police) under "type."