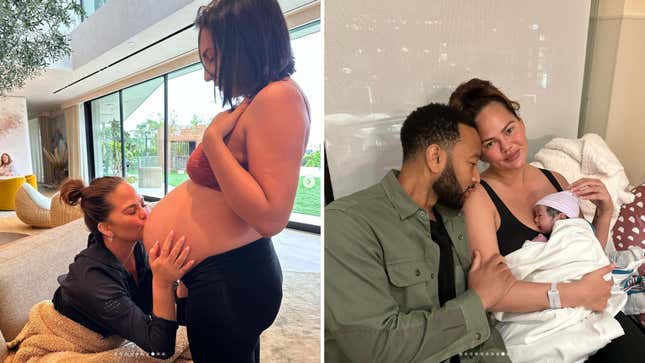 Chrissy Teigen and John Legend are new parents to a fourth child, son Wren Alexander, after their surrogate, Alexandra, gave birth this week. Wren joins Esti, 5 months, and Luna, 7, and Miles, 4.
Teigen, 37, shared an effusive Instagram post on Wednesday explaining the decision to hire a surrogate while she was already pregnant and praising Alexandra for "how much she gave up of her own body" to give Teigen and Legend the fourth child they wanted.
"For as long as I can remember, I've always wanted four children," she wrote. "As a little girl, 2 glow worms and 2 cabbage patch dolls were perpetually in my arms."
After Teigen experienced devastating pregnancy complications while pregnant in 2020 had to have a lifesaving abortion at 20 weeks, she and Legend considered hiring two tandem surrogates to carry their third and fourth babies instead of her risking that trauma again. "Twins, kinda?!" she wrote of the idea.
Ultimately, Teigen says she decided to try one more time to carry her own baby, and she became pregnant with Esti—but she still wanted a fourth. "Around this same time, we also met the most incredible, loving, compassionate surrogate we could ever imagine, Alexandra," Teigen wrote in her Instagram post. "I knew she was a perfect match for us the moment we spoke to her. All our wishes and dreams aligned. I wanted to be her friend, I wanted our children to play, I wanted dinner together, I wanted to lay my head on her belly and be able to feel the hiccups and kicks."
The first embryo transfer they tried with Alexandra didn't take, so she had "surgeries to get scar tissue cleared" and they tried again. It's not clear how much Teigen and Legend paid Alexandra to carry and birth their child, but it all sounds very intense; Teigen acknowledged the extremity of "the mental toll it takes to go through all of that for yourself, much less for other people."
The model said her son Wren Alexander, born on Wednesday, has a name "forever connected" to his surrogate.
I'm fascinated by the concept of surrogacy in general, which seems pretty out of reach for couples who aren't mega-wealthy, and I have a lot of questions I'd like to ask Alexandra about her experience and the terms of her deal. But in the meantime, I heartily congratulate Teigen and Legend on their new arrival and on having their dream family of six.