Chris Pratt, the worst of Hollywood's four major Chrises, was seen on a "picnic date" with author Katherine Schwarzenegger, the daughter of Maria Shriver (a Kennedy) and Arnold Schwarzenegger (a Terminator). I know they went on a picnic date because a photographer took 46 photos of them together, and I know a photographer took 46 photos because TMZ published all of them.

To click through those 46 photos is to be confronted with the initially troubling but ultimately comforting concept of nothingness. If there had been video of it, I am unconvinced they would have been making sounds. And though I cannot show you the photos here because we do not have the rights to them, I hope these descriptions will suffice:
Both Pratt and Schwarzenegger are seated on the edges of adirondack chair ottomans, facing each other, with a third adirondack chair ottoman between them on which they've placed their snacks.
The chairs themselves are empty, which is bizarre to me, a lover of adirondack chairs.
There are two large bottles of water on the center adirondack chair (both half-empty, because nothing in this photo can be described as half-full).
There are two sandwiches on the center ottoman (contents unclear, but served on what appears to be wheat bread).
There is one bag of Deep River Zesty Jalapeno chips (presumably chosen by Pratt but unopened).
There is one bag of Deep River Original Sea Salt chips (presumably chosen by Schwarzenneger and shared by both parties).
There are two apples (uneaten Galas or Fujis) somewhere in the pile that remain unseen until Schwarzenegger carries them excitedly as they walk back to Pratt's truck, a giant Ford.
Throughout the date—which I can't imagine lasted more than 18 minutes—both Pratt and Schwarzenegger laugh, but never make physical contact.
They look at each other like two people who've just met—but while Schwarzenegger appears to be thinking, "Wow we're hitting it off," Pratt appears to be thinking, "I hope we don't hit traffic on the way back."

It's common among purveyors of celebrity gossip such as myself to throw around phrases like "they obviously called the paparazzi" when a public outing is so obviously staged, but honestly, what do I know? I'm writing this from a couch in New York City and the only sourcing I have re: "celebrities obviously calling the paparazzi" is second-hand—and largely from people who are in the business of spreading rumors. Maybe every A-lister is being tailed at all times. Maybe there isn't a public place Chris Pratt can go without fear of being photographed.
Having said that, Chris Pratt and Katherine Schwarzenegger obviously called the paparazzi before going on this picnic date.
G/O Media may get a commission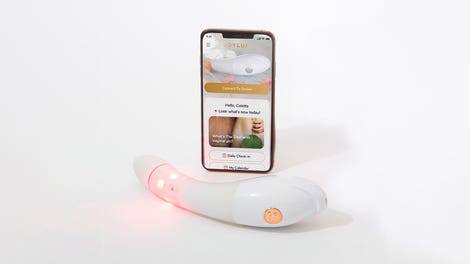 $50 Off
Joylux vFit Gold Device
[TMZ]
---
And now, an update on Kanye West:
"Kanye has been so busy with all the new albums," a source close to the rapper tells Us Weekly exclusively. "Kanye is very clear, super focused right now. The version of him today is very different than the one we saw a few weeks ago."
---
And now, an update on Kylie Jenner:

---