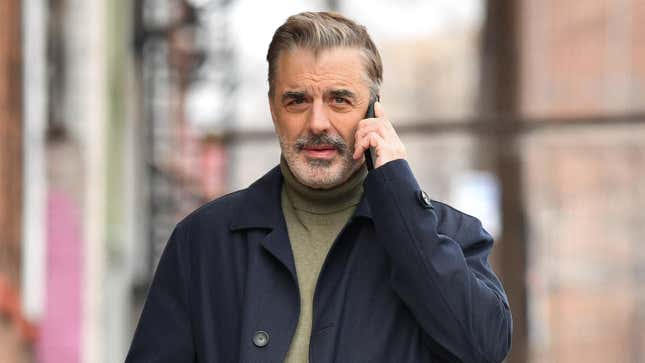 How does someone accused of sexual assault by multiple women break their year-plus silence on the matter? Personally, I wouldn't suggest folding it into a press campaign with a bespoke suit company, but it seems that Chris Noth aka Mr. Big would disagree.
In an interview with USA Today, Noth doubled down on his previous claim that the sexual assault and rape allegations against were actually consensual and that while his cheating was "devastating," it wasn't "a crime." After The Hollywood Reporter published allegations by two women against the actor, three more women came forward with similar stories. Noth told USA Today:
"There's nothing I can say to change anyone's mind when you have that kind of a tidal wave. It sounds defensive. I'm not. There's no criminal court. There's no criminal trial. There's nothing for me to get on the stand about and get my story out, get witnesses. And there's even more absurd add-ons that are completely ridiculous, that have absolutely no basis in fact.
About four paragraphs into the interview, when you might be wondering, "Why are we hearing from this bloke right now?," we get our answer. Noth has partnered with bespoke menswear company Samuelsohn Suits to celebrate their centennial and also address men's mental health with a new line called "Iconics." I simply can't help but wonder...if Samuelsohn thought their campaign rollout wouldn't be alongside him addressing and downplaying the serious allegations against him? Jamming in a company birthday celebration, a public comeback, and uh, men's mental health in one go is a lot to take on in a single campaign for blazers and button down shirts.
Samuelsohn Suits CEO Stephen Granovsky explained to WWD that the company "thought long and hard" about partnering with Noth, and ultimately, "We had the opportunity to pair with a celebrity who wanted to commit his fee to mental health, which is special. And he looks better in a suit than anyone I know." Ah, blinded by a handsome man in a suit and making bad decisions. How very Carrie Bradshaw of Samuelsohn!
Noth waived his payment for the campaign and together with Samuelsohn, is donating up to $100,000 to Mental Health America and the Canadian Mental Health Association. Does that feel like a lowball amount to rehabilitate an alleged sexual assailant's reputation alongside a premium menswear brand? It does to me! If you're going to choose a scummy dude to be the face of your campaign simply because he is ruggedly handsome, you're going to need to slap on more than $100k and a halfhearted nod towards "men feel sad sometimes" to really make a go of it.
In the fallout of the 2021 accusations, Noth lost a $12 million deal to sell his tequila brand Ambhar, was fired from the CBS drama The Equalizer, and was edited out from the finale of And Just Like That. No criminal suits have been filed, which isn't rare in sexual assault cases, but noting the possibility of a civil suit, Noth told USA Today, "That's a money train for a lot of people." A very kind thing for a newly minted mental health advocate to say!
While we shouldn't be too surprised these days at companies plastering meaningless mental health awareness onto their brands to bolster their brands, doing so with a man accused of egregious sexual crimes and basically being like, "But you've seen how hot he is in a suit, right?" is a whole new level. It's offensive to people suffering from mental health issues and to those working hard to combat them.