Monday night's Men Tell All episode of The Bachelorette, when Kaitlyn's rejects come back to pretend they still care about the drama in a house they haven't lived in for months, was mostly dull. A stand-out moment, however, was when host Chris Harrison talked to Kaitlyn about the amount of vitriol she's received since the show started airing over her apparently loose sexual morals.
Ana Gasteyer Satirizes the Girl Boss in 'American Auto'
The response to the hate Kaitlyn has received was interesting, given that during the season, she got heavy criticism from her own men for not taking things seriously enough, and having sex with one of them too early. So it was startling, to say the least, to see her get a standing ovation from those same men after Chris read aloud tweets that said things like, "I can't wait to see Kaitlyn cry like a little BITCH. She's a dirty whore who treats people like shit!!!"
"We've always had a fair amount of controversy, especially around issues of appropriate behavior, gender roles, what should and shouldn't be shown on television. These have always been issues that we've embraced here on The Bachelor," said Harrison. (Especially true if you substitute "embraced" here for "used to get ratings").
"What you're dealing with is something completely different," he continued, before reading just a small sampling of the tweets and DMs Kaitlyn has gotten this season, including one that read, "Kaitlyn is a selfish whore with no morals and a pathetic excuse for a human being!! She should just crawl in a hole and die. I hope fans break her spirit so our kids can see that whoring behavior isn't rewarded."

G/O Media may get a commission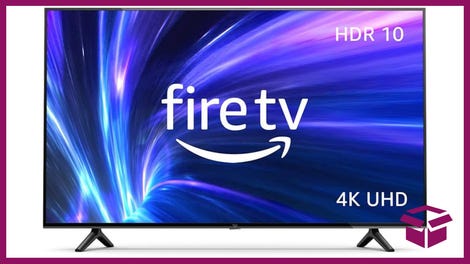 42% Off
Amazon Fire TV 50" 4K Smart TV
"I mean that was a mother who said that to me," Kaitlyn said to Chris. "When I'm reading that I just don't understand how someone who is a mother figure can go out of their way to write that for the world to see, for me to see. And she's talking about how I'm teaching bad behavior yet she's speaking like that to somebody." (As the episode aired, Kaitlyn tweeted some of the bad comments she's received, several of which are now gone.)
"Holy crap," said Ben Z, after Kaitlyn admitted that she, like apparently all women who dare to have online presences, gets death threats. "So not true," said another, after one of the "whore" tweets was read aloud. "We still love you Kaitlyn," an audience member cried out, before the room, including the men, gave her a standing ovation.
"Well I'll tell you this, I would take you as a role model for my kids over anybody who would be a cyberbully and spew that kind of hate," said Chris. Thanks, man.
---
Contact the author at dries@jezebel.com.