We've lost count of how many "threats" Glee star Chris Colfer is at this point: dancing, singing, acting, onscreen ascot-wearing, a 2011 Time Magazine Influential Person, and now novel-writing. Sextuple threat? The Golden Globe winner and two-time Emmy nominee's debut novel, a fantasy called The Land of Stories: The Wishing Spell is out today. Colfer, 22 years old (askjslkad), says that he's had the characters and idea for the story in his head since he was a child but ran into a few age-appropriate roadblocks:
I really wanted to be a published author when I was 10, but I had a hard time writing a novel when I was 10.
He adds that he's been on pins and needles throughout the entire process:
It's nerve-racking. I feel like little bits of my soul are being shipped domestically.
Aww, Chris Colfer, you are so new to the writing game! If you feel like you're subletting yourself for -$500 the value price without even requiring a security deposit, that means you're doing it right. [MTV News]
---
G/O Media may get a commission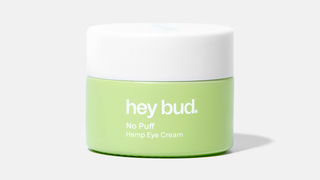 15% off
Hey Bud - No Puff Hemp Eye Cream
Mary J. Blige will join the third season of The Voice as an advisor to Adam Levine, a spot held previously by Alanis Morrissette and Robin Thicke. It was announced last week that Michael Bublé would serve as advisor to the country-fried-iest judge Blake Shelton, but no word yet who will be working with Christina Aguilera or Cee-Lo Green and his tiny hands. [Rolling Stone]
---
In the wake of the Tomkat debacle, Jason Lee's ex-wife Carmen Llywelyn, who converted when she married the My Name Is Earl star, has spoken out and told the press that Scientology ruined her marriage by using their super-creepy auditing process to learn about Lee and Llywelyn's sex life, which she felt uncomfortable speaking about. She told Access Hollywood: "Scientology broke my heart ... worse almost than Jason did." She and Katie Holmes should start pitching around a sitcom called Help, I Married a Stage 5236236 Operating Thetan! [New Magazine]
---
I know you woke up and faced the day with the burning question: How does Jennifer Lopez ingest her food? Does a larger Jennifer Lopez regurgitate it into her mouth until she is ready to leave the nest? Wellp—
"Jen drinks ice-cold water to speed up her metabolism, bans carbs after 4pm and sticks to four small meals a day, which are packed with protein. Jen is up at 6am every morning for an hour's exercise. She hates doing the same workout twice and likes to switch it up with core-strengthening routines, yoga or runs or the beach. She takes a skipping rope with her when she travels and, when she gets a spare moment, will drop to the floor to do around four minutes of sit-ups. Jen likes to work out with Casper as they really egg each other on." [Sky News]
---
Demi Lovato, a recovering cutter, says that she used to harm herself because her anxiety got the better of her; she's been combating that and an eating disorder with meditation. She also hasn't used her cell phone in three months, which helps her connect to people. She may want to sit down Miley Cyrus and have a talk with her, because the "Party in the U.S.A." singer has just been spotted skateboarding in Toluca Lake with some scary self-inflicted-looking scars on her wrist. [People, Yeeeah!]
---