Chris Christie, who once said that "Donald Trump doesn't have the temperament to be president," showed up at a Fort Worth, Texas rally on Friday to endorse him.

"Donald and I, along with Melania and Mary Pat, have been friends for over a decade..we have had a lot of wonderful times together," Christie said in his speech. "Donald Trump is someone who, when he makes a promise, he keeps it."
"The one person that Hillary and Bill Clinton do not want to see on that stage is Donald Trump," Christie continued, later berating a reporter in typical fashion for daring to bring up the Trump University scam, which Rubio mentioned in last night's Republican debate.
"I'm a former federal prosecutor," Christie said in response, beginning to raise his voice. To try to compare "a civil lawsuit" to Clinton's server is "a complete misunderstanding, a complete misunderstanding—excuse me, you're setting up a question, you're trying to—no no no, let me finish," he boomed.
Through his remarks, Christie repeatedly delivered tepid, breathtakingly transparent sentences like "You need a strong, tough leader to restore America's greatness." (When he was still in the race, Christie notably failed to go after Trump, leaving pundits scratching their heads. "Nobody wants to be a suicide bomber," a Christie advisor told Yahoo! Politics on Wednesday.)
G/O Media may get a commission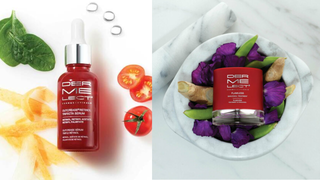 Save $19
Retinol Renewal Kit
Trump, for his part, made several references to Senator Rubio's personal hygiene and very few to his own presidential qualifications.
"He looked like he just came out of a swimming pool, he was a mess," Trump said of Rubio. Later: "I have never seen a human being sweat like this man sweats."
Another proud day on the Trump campaign trail and for Chris Christie's dignity.
---
Contact the author at ellie@jezebel.com.
Image via Associated Press.