That thing called A Chris Brown that crawled out of the bottom of a septic tank in 1989 has deleted his Twitter after a particularly nasty showdown with a comedian named Jenny Johnson, which began like this.

Actual retorts from Breezy, citizen of the world, charm school graduate, during the online fracas:
"take them teeth out when u Sucking my dick HOE."
"I should fart while ur giving me top."
"mom says hello... She told me not to shart in ur mouth, wanted me to shit right on the retina."
And, perhaps the worst response: "Just ask Rihanna if she mad??????"
Johnson concluded the feud with, "Okay. I'm done. All I got from that exchange with Chris Brown is that he wants to shit and fart on me ... I have zero respect for a person who seems unapologetic for the terrible crime he committed and shows no signs of changing." UH-dorable. Just to be clear, neither party's winning any awards here. Twitter is where the Siths and Slytherins of the world go to take pointless, abrasive dumps on each other. But, hey, at least his account is gone now. I actually think this is how the Age of Enlightenment started. [MTV News]
Oh cool, Breezy's fans are still harassing her. [Twitter]
---
G/O Media may get a commission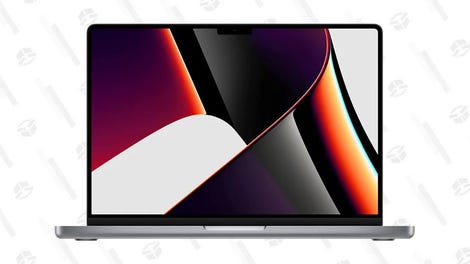 Save $300
2021 14" 1TB MacBook Pro
Sofia Vergara and Nick Loeb visited UCLA Medical Center in Los Angeles to discuss harvesting her eggs for a surrogate pregnancy, which sounds great, but let's not forget that Nick Loeb is allegedly a major fucking dickhead. "Nick wants to have a baby with Sofia, but he doesn't want her to lose her gorgeous shape. He also doesn't want to sideline her from earning money." But no, yeah, have a kid, you guys, that will totally fix things. [National Enquirer]
---
The Spirit of Christmas is hella jubilant, for Taylor Swift is meeting Harry Styles' parents after One Direction's special holiday concert in New York on December 3rd. A source says, "He's been very hush-hush about Taylor, but this is the perfect chance to introduce her to them." It has now become clear that Harry Styles is Taylor Swift's Chuck Bass. Shine on, you crazy diamonds. [Hollywood Life]
---
The day before he and Selena Gomez broke up last week, Justin Bieber told Oprah that he wants to be married by the time he's twenty-five, and also he gets depressed sometimes. "Not like super, super, super depressed, but I get days where I'm just down and gloomy, just because I'm human. Some days you just feel what you've gone through. You just have pain in your heart because maybe you haven't dealt with [it]." [Gossip Cop]
---

Morgan Freeman, God, and Morgan Freeman-as-God all support gay marriage.
---