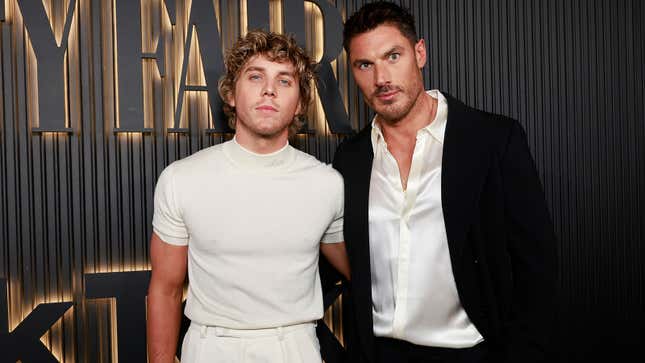 If it walks like a boyfriend and poses on an ATV like a boyfriend and has abs alongside you like a boyfriend, then it probably is a boyfriend. After firing up the old gossip mill with a February 20 Instagram post in which celebrity hairstylist Chris Appleton was pictured frolicking alongside actor Lukas Gage (Euphoria, The White Lotus), Appleton has apparently confirmed the pair's relationship. The dashing snipper, who has styled for Kim Kardashian and Jennifer Lopez, told Drew Barrymore in an interview on her talk show set to air Friday that he's "very happy" and "very much in love."
"I feel very grateful to be able to share my time with someone very special," he continued. "Love is a really special thing, and I think meeting someone you connect with is really, really special, so..."
In response, Barrymore pulled her hands to her face and then extended them toward him while saying, as she is wont to do, "You are such an amazing human being—I'm sorry, but you are, like, the world's great catch." (Drew, how I've missed you.) She gushed that she couldn't think of anyone who deserved happiness more and when Appleton scooped her up in a levitating hug (she is a good head shorter than he), she squealed and repeated, "I love it!" Barrymore then threw an Instagram photo of the pair onscreen, seemingly confirming the apple of Appleton's eye.
I'm hedging a little bit because Appleton did not come out and say, "I am in a relationship with Lukas Gage," and was kind of coy about the whole thing, but obviously, if he were talking about someone else than Gage, he would have corrected Barrymore then and there. So, consider this a couple. Whew!
What makes this particularly interesting, in my opinion, is that Gage has played even coyer (in print). Last year, in response to a tweet criticizing "Hollywood" for hiring non-queer actors ("like @lukasgage") for queer roles, Gage responded, "u dont know my alphabet." When the poster implored Gage to "enlighten the whole world," the actor answered, "no❤️," which is 👌🏻.
More recently, in an interview with the New York Times that was published last week, Gage spoke of the direct pressure to come out from within the industry:
An agent that dropped me was like, "Stop dyeing your hair, stop wearing weird clothes and pick a lane: gay, bi or straight. It's too confusing." I understand representation and voices that need to be heard, but I don't want to do anything on anyone's accord but my own. Let me do it when I'm ready. And it's acting. I feel like everyone should get the opportunity to play whatever they want.
Asked directly about the gossip about him and Appleton's status, Gage said, "If they want to think that, they can. I'm a pretty open book about most things in my life, but I have a problem with the culture of everyone needing to know everybody's business and nothing can be sacred. It's a weird line that I'm still trying to figure out."
Well, Lukas, looks like someone figured it out for you. Congrats?
---