After less than two months, a Chinese city is closing down its "baby hatch"—a safe spot for overwhelmed, often impoverished parents to abandon their children—after receiving more babies than the local child welfare authorities could handle.
The news comes via The Guardian. Stories of child abandonment—which is illegal—are perpetually popping up in the national media (even though, according to Reuters, rates are actually dropping). It's especially a concern among desperately poor parents dealing with sick children. And so in the last three years, an increasing number of cities have established "baby hatches," as a means of at least making the process safer:
A baby hatch – or "baby safety island" in Mandarin – allows a parent to leave his or her unwanted child in a temperature-controlled room equipped with a cradle and incubator. The drop-off triggers an alarm and, minutes later, a welfare worker picks up the infant, allowing the parent to remain anonymous.
But when the Guangzhou Child Welfare Centre's hatch opened on January 28, the response proved overwhelming. 262 children (all of them sick to one degree or another) have been dropped off since, nearly doubling the organization's workload. So they're shutting the safe haven down.
According to the director, it was just way more babies than expected: "The number of abandoned infants we received far exceeded the number that were received by other cities' pilot programmes in the same time period." In comparison, the city of Shijiazhuang has received just 181 children—in the last three years. The response has even inspired some criticism that the hatches actually inspire abandonment, but the head of the China Centre for Children's Welfare and Adoption insists that "baby hatches focus on rescue after the laws are broken."
G/O Media may get a commission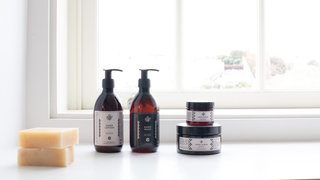 Exfoliate and Hydrate
The Handmade Soap Company
Photo via AP Images.