Chimamanda Ngozi Adichie recently became the face of Boots No7 and promptly began her press tour by gently explaining to various publications why it's okay to be a renowned feminist writer and wear lipstick.
The latest entry of tolerant responses comes courtesy of the New York Times. In reply to a question about how her relationship with make-up has evolved, Adichie references the way her attitude shifted depended on what societal perception she was immersed in:
In general, the cultures that I know — Nigeria, the U.S., the U.K, Western Europe — all largely judge women quite harshly for appearances. But in Nigeria, there's a slight difference. There isn't much of a judgment if you're an accomplished woman and seem to care about your appearance.

But I do remember that when I moved to the U.S. — and I think maybe there are different standards for people who are supposed to be particularly intellectual or particularly creative — I very quickly realized that if you want to seem as a serious writer, you can't possibly look like a person who looks in the mirror.
She also says she fully supports Alicia Keys and anyone else who feels their make-up has become a mask. She says it's not for everybody, but for her "there's a part of me that likes shoes, and likes dresses, and likes makeup, and likes books, and likes to write. I think that's the case for many women. But our culture makes us think we have to choose slices of ourselves that we're comfortable showing the world."
Adichie has not yet run out of gracious ways to say wearing make-up is her choice and no one's business, though once you become the face of a make-up company it becomes a business. She does admit that seeing herself everywhere has been a bit much:
I decided to do this No7 thing because I thought it might be fun, and then they will give me free makeup. And I'm always up for free things. It wasn't a carefully calculated thing. It was actually just my being blinded by the selfish overwhelming love of makeup. But I have to be honest, there were times when I thought, "Well, what have I done?" I wasn't quite aware of how many pictures of me would be out there. It makes me feel a little vulnerable. I told my friends to stop sending me pictures of when they see me at the bus stop in London or something. It'd be very dishonest to say it's all wonderful. It's not so much a question of regret. But it does come with feelings of vulnerability that can be uncomfortable.
G/O Media may get a commission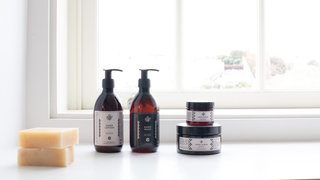 Exfoliate and Hydrate
The Handmade Soap Company
It's very refreshing to have a spokesperson who questions if vulnerability is worth the free swag.