Mayor Rahm Emanuel has made Chicago Public Schools the first big-city system to require a job, a college acceptance letter, gap-year program enrollment or enlistment in the military as a condition of graduating from high school. Aside from the obvious issues with the school system potentially withholding a diploma even if a student earned it, detractors say Chicago doesn't have the resources to pull it off, mostly because of the mayor.
Ana Gasteyer Satirizes the Girl Boss in 'American Auto'
The Washington Post spoke with school administrators about the plan, which was approved by the Board of Education in late May, and will be begin to affect incoming sophomores planning to graduate in 2020. Graduation rates have improved in Chicago since 2012, with nearly 74 percent of students finishing high school in four years, but they are still below the national average of 83%. Last year, the district laid off 1,000 teachers and staff members.
In 2015, the Chicago Tribune reported that the financial issues faced by CPS were largely the fault of Emanuel, who delayed making payments to teacher pensions or searching for new revenue streams, and dropped fiscal responsibility measures implemented in the mid-'90s, when the state gave Chicago's mayor control over the district following emergency state management. The Tribune notes Emanuel was just one in a line of mayors who failed the needs of CPS, but his decisions have put the district in a difficult position to implement this new requirement.
Students who want to apply for college or look for a job need help planning, which would traditionally be the job of a school guidance counselor. But in Chicago's poorest areas, one guidance counselor might have a caseload of 400 students. Karen Lewis, president of the Chicago Teachers Union, told the Post that the requirement doesn't consider what will happen to students who can't get their diploma:
"It sounds good on paper, but the problem is that when you've cut the number of counselors in schools, when you've cut the kind of services that kids need, who is going to do this work?" said Lewis. "If you've done the work to earn a diploma, then you should get a diploma. Because if you don't, you are forcing kids into more poverty."
G/O Media may get a commission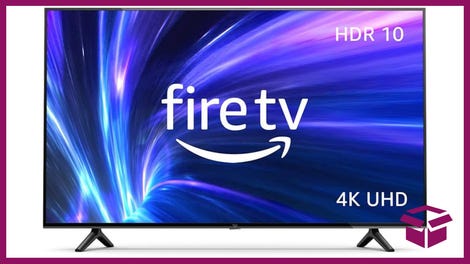 42% Off
Amazon Fire TV 50" 4K Smart TV
Also, as the Chicago Tribune reports, every CPS student is guaranteed admittance into the City Colleges of Chicago community college system, which essentially means that they're already fulfilling this requirement. However, city colleges are struggling with budgetary issues, too, that would make a sudden influx of students actually applying difficult to manage:
The City Colleges system has continued to struggle with "softened" enrollment numbers, as the system also looks at burning cash reserves and making cuts because of the state's protracted budget impasse.

At the same time, the system has said it has seen larger numbers of incoming students "without the required academic preparation," which has led to higher demand for remedial courses and support services.
Smaller magnet schools have had some success with programs designed to get kids thinking about potential careers and college, like Crane Medical Preparatory High School, which directs students towards the health-care industry. They provide connections to internships, college visits, and walk students and their parents through college application and financial aid processes.
But not all students want or are able to go to college or immediately set off on a career, and high-risk populations may have be facing issues outside the control of school administrators. Holding back a diploma they've earned based on factors outside of CPS's purview is a further obstacle to a student's success.

Despite the criticism and the lack of foreseeable aid for schools to pull of his plan, Mayor Emanuel told the Post that the two years schools have to get ready for the initiative is sufficient:
"I know what's not good for kids is allowing them to go into a job market and the rest of their lives with a high school diploma when everything tells you that they need more than that," Emanuel said.