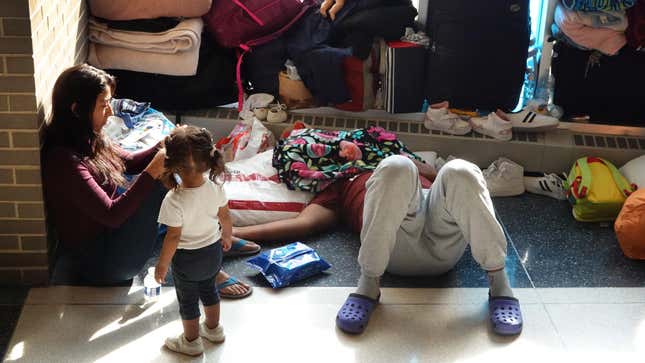 Chicago police are investigating their own officers who are accused of sexual assault against newly arrived immigrants—including a now-pregnant teenager— who were living at a police station, according to the Chicago media. Chicago Sun-Times reported that one of the officers responsible for covering the neighborhoods of Lawndale and Little Village is accused of raping a teenager and impregnating them. No age was reported.
The newspaper reported that multiple officers are under investigation for sexual crimes, both internally and by an independent accountability arm.
The Civilian Office of Police Accountability said the department received a complaint on Thursday, triggering the internal investigation. "While COPA investigators are currently determining whether the facts and details of this allegation are substantiated, we want to assure the public that all allegations of this nature are of the highest priority and COPA will move swiftly to address any misconduct by those involved," COPA first deputy chief administrator Ephraim Eaddy said in the statement to the Chicago Tribune on Friday.
It's unclear if officers are on leave as the investigation progresses. The Sun-Times was unable to substaniate if any potential accusations were forwarded to the county prosecutor office.
Since April, the Tribune reported, 22 of Chicago's police stations are housing hundreds of recently arrived people. In the last year, nearly 11,000 asylum-seeks have come to city, many on buses courtesy Texas Gov. Greg Abbott (R). Those in power are attempting to get them into more permanent housing. Illinois Gov. J.B. Pritzker (D) put $42.5 million to help immigrants in the state during this fiscal year.
Chicago Mayor Brandon Johnson's office said they are monitoring the situation closely. "The city takes these allegations, as well as the care and well-being of all residents and new arrivals, very seriously," a spokesperson from the mayor's office said. "We are monitoring the situation closely, but cannot comment further as this is the subject of an ongoing investigation by the bureau of internal affairs and the Civilian Office of Police Accountability."