For people who live to eat, this is a golden age. Food documentaries, where every last oyster is lovingly and tenderly plated in slow motion, abound. There are hundreds of shows—competition-based, conversational, and educational—devoted to the topic. BuzzFeed's Tasty exists.

But something can get lost amongst this glut of imagery: the inherently personal nature of the work, the obsession it requires to make supremely good food, and why people do it in the first place. Not so with Barbara Lynch's new memoir Out of Line: A Life Playing with Fire, which chronicles her life from poor kid growing up in South Boston—Southie—to cruise ship chef to working with Todd English to restauranteur (with several other notable stops along the way). As Chef/Owner of Barbara Lynch Gruppo, Lynch owns seven restaurants, all in Boston, and has acquired a lengthy list of accolades, among them several James Beard awards.
All of this is more impressive given that Lynch is self-taught; she got her start cooking for priests at her neighborhood rectory, and, as she describes it, fibbed her way into her first jobs, much as she did during a youth marked by numerous cons of varying sizes, like stealing booze and sneaking onto airplanes. A trip to Italy soon after she started cooking professionally moved Lynch so much she's fully embraced what she calls Italian food's "bold simplicity," but her earliest memories are beautifully rendered retellings of her mother's specific predilection for flavor combinations likely not exalted by many as cream of the crop.
I was always telling my friends, "I'll catch up with you later. I have to run to the druggie"—the corner store, to buy her lottery tickets or one of her three daily papers: the Boston Herald, the Boston Globe, and the South Boston (Southie) Tribune; "and then the deli," to get her favorite Land O'Lakes cheese, sliced off the block on Number 4, just the right thickness. Or I was off to de Angelo's to pick up her favorite sub, Number 9—steak and cheese with mushrooms.

...

Even that young, I had an interest in food, sparked by my mother's cooking. Though she made plain, down-to-earth meals, with heavy reliance on convenience products, she had particular tastes and added her own special creative touches. Like in her tuna-fish sandwich, which I loved, she'd only use Starkish white albacore in water and Cains mayonnaise, never Hellman's, thinned with splashes of milk and a secret ingredient, Vlasic pickle juice. She's shred the mixture with two forks until it was creamy, spoon it onto Sunbeam, not Wonder Bread (which had too many holes), and top it with pickle slices. Before brown-bagging the sandwich, she's double-seal it in clear waxed paper and topped then with Sarah Wrap.

At school, I'd stick the bag between the cast-iron tubes of the radiator, both to warm it up and so I could enjoy the tuna-fish pickle smell until it was time for lunch.
Though it's the descriptions of food that capture easily, that's only because Lynch's memory for it all is remarkably good, which she credits to years of keeping journals to help with her ADD, which "forced" her to be that way ("I'd have to remember tastes and flavors, because I couldn't follow a recipe really," she told me in phone interview last week as she stopped through Eataly for lunch. "I'm telling you, the food is friggin' beautiful here," she said of the market). But Lynch's book is not just a food history, but a personal history and city's history all in one. The youngest of seven children from a widowed mother, she tackles her memories of notorious crime boss Whitey Bulger and the Boston busing crisis, and a particularly difficult and chaotic young adulthood, one that was marked with abuse. And so though at first it seems that her path to success was unlikely, you also get the sense that it was only possible in this way because of her background. "...the story of my education," Lynch writes, is simple: "using low-down cunning or, if necessary, my fists to overcome limitations I couldn't understand." Where others might have seen obstacles, Lynch never quite contemplated them as such, as she explains of when she started her first restaurant, No. 9 Park, in 1998. "In a way, my Southie background paid off. The words financial obligations didn't mean much in a culture where scamming and theft were reasonable, acceptable options for getting by," she writes. "There was no difference, in my mind, between $30,000 and $3 million. Both sums were unimaginably huge and out of reach."
In this way, Lynch's descriptions of her rolling, rollicking life are matched by the style of the book (which she worked on with Elisa Petrini); threads are dropped and then picked up, one narrative will be full of detail and another will leave you feeling as though there is much more to the story. You get the sense that Lynch is constantly battling her nature a bit. "[I] get my greatest satisfaction from hands-on creative work, not from talking about what I do," she writes. 
I'm slightly phobic about TV and can seem "a bit scowly," as Grub Street once said. But I think it's critical for female chefs to get television exposure, to counter the pervasive stereotype of the male "god of food," as the November 2013 Time magazine story dubbed the chefs on its "most influential" list, which totally omitted women.
G/O Media may get a commission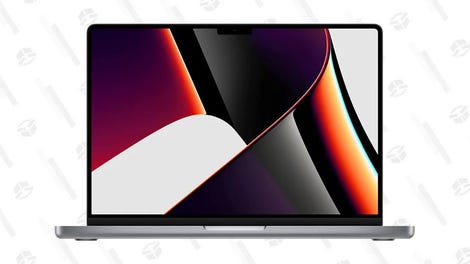 Save $300
2021 14" 1TB MacBook Pro
I asked Lynch her how her distinct anti-self promotion impulses jive with the press tour she's currently on, or her push to make sure other woman chefs get the attention they deserve. Though she doesn't shy away from talking about the struggles of women in the food world, her own such stories are straightforward and hardly dwelled on, like when she went back to work only a few weeks after having her daughter, or her feeling at one point that control of her company had gotten away from her. It's hard to say whether that's more because she's got so much story to get through or a personality trait.
"It's hard for me, because I'm kind of an introvert really," she said. "I like to stay home. I'm a hermit and I hate small talk. But I've got Carrie Bachman [her publicist] with me and I'm on a mission. The other good thing about me is that I'm good at business and I want to be great at business and I want to sell this book and I think that everybody should read it. And I feel like somebody's going to get something out of it no matter what. People might hate it, people might not like it, but I think most people can kind of get something out of it. A little hope and some inspiration is really what I want."
Scowly or not, Lynch's techniques don't seem to translate into the rude to abusive, often low-paying environments macho male chefs have been known to cultivate; she repeatedly emphasizes the specific domain she wanted to create for her staff, one where people would be "lifers" and be able to live that life comfortably. "In those days, many, if not most career workers in high-end restaurants saw abuse on the job as a rite of passage. In a hot kitchen, under intense pressure, executive chefs were expected to freak out and get verbally and/or physically violent. I wanted my restaurant to be more or less free of drama," Lynch writes.
"I knew nothing but chaos," she told me of her childhood. "So I was really familiar with that. Todd English was chaotic, restaurants are chaotic, it's just a chaotic time. But for a person with severe ADD, chaos does the opposite. I was in a calmer state in the kitchen in the middle of chaos, I could focus. I don't know how but I could focus 100 percent on what I was doing, who was eating what, what the timing was. So it was more natural for me to always be in the kitchen."
However the chaos may have allowed her to flourish, Lynch is uninterested in recreating that energy for her employees.
"It didn't have to be chaotic," she continues. "You have the Anthony Bourdain-era where"—and here she begins to list adjectives often used to describe the world Bourdain writes about in his famed food memoir Kitchen Confidential—"dilettante, drugs, male chefs, sloppy, mean, angry. They could cook brilliant food, but then right after the shift they're pieces of shit. I've lived that life, I don't need to live that again. I think that I created a culture that I felt good about and the culture is high on education and treat people with dignity and be a good leader. Try to be a great chef and don't be a screamer. You're going to get a lot more out of people if you can come down to their level. And I've never been above them. I call everyone chef. We're all one. And we're a big happy fam—not a happy family, but we're a family. We're a unit."
This mantra of sorts reflects the passion she describes in why she cooks: to bring together the family she created with her husband Charlie, with whom she had her daughter Marchesa (they continue to have what Lynch paints as an unconventional relationship post her coming out as gay several years ago), the family she still has in Southie, the friends she has kept for decades, her employees, her patrons. It is telling that both in her book and in conversation she consistently mentions and credits those who have come before and after her both casually and authentically.
Lynch's life story may be unusual, and her way of telling it is disjointed at times perhaps because of it, but she's shifted a straight-forward "underdog makes it" story into something else entirely. "I think coming from the background that I did, loyalty means everything to me," she told me. "I need loyal people in my life. And my employees some of them have been with me—Cat [Silirie] and I have been working together for 30 years. And some of my employees have been with me for 20. That's loyal, right? And I think I have their back, anything they need, they have my back, anything I need. And I'm talking about a reservationist, I'm talking about a pasta maker, a food runner. They're the ones that I'm looking to. So loyalty means a lot. And I think that comes from Southie, for sure."
"A lover once joked that when I was asked, 'How do you feel?' I'd say, 'What's a feeling?' Lynch writes. "I'm working on that one," she told me, work that partially happened through writing Out of Line, which she credits her agent pushing her to do in the first place. "You know, I just thought about it and I said, well, if she's saying I have a good story, I think I do have a good story. It was the fear of going back and remembering all your little demons and secrets and stuff like that. So I just said, it's time. And it was probably one of the best things I've ever done, besides giving birth to my daughter."