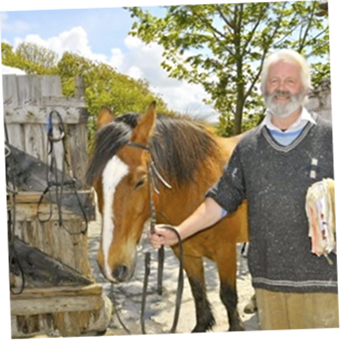 Screw the execrable Leap Year: why isn't this a movie:
Willie Daly, 66, is Ireland's last traditional matchmaker, a third-generationpractitioner from the Co Clare town of Lisdoonvarna, famed for its annual September Matchmaking Festival. Daly, who describes his vocation as "a gift," has made thousands of matches in the "book" handed down from his grandfather, but regards it as a hobby, and still runs a small farm to make a living. He is separated himself, but feels his 25 years of marriage are still a fair recommendation, and doesn't seem bitter than neither of his sons is interested in carrying on the patrilineal family business.
Daly's methods, while pragmatic, are a world away from the crassness we associate with the Millionaire varietal. His approach is definitely low-fi: as he writes in his autobiography (out next month),
Although much of what I do relies on my instinct and my gut feeling, I also make detailed notes about their age - I always make a polite guess for the women - marital status, appearance, jobs and personality. I ask them for their personal preferences for a partner. And those notes are about as scientific as it gets. The real analysis goes on in my brain, in my soul, as I think about two people I have come across separately and imagine them spending time together.
Times have, of course, changed, and most of Daly's clients today are older people who, as Daly tells the Telegraph, "know what loneliness is like"- many of them farmers who find themselves alone after their mothers die, a common situation in rural Ireland. But Daly is not mired in the past: in addition to the autobiography (serialized on the BBC), he has a website that advertises his matchmaking services, writing, "I like to consider traditional matchmaking as the antidote to the dating agency." It is sad to think of this personal service dying out - a practical approach to courtship that doesn't mess about with soul mates but understands that with the right elements love can grow. It's true, this is unfashionable: nowadays we have hard criteria, sugar-coated with a heavy layer of idealism. Looking at the bevy of books out there chronicling disintegrating modern marriages - the death of absurd expectations, the search for completion through romance, the tsuris - a matchmaker who acknowledges the existence of loneliness right off the bat seems downright heretical. But it's not all pragmatism: as Willie Daly tells the Telegraph, "It's awful simple, you know, traditional matchmaking. If you get the magic right, most other things sort themselves out. You have to introduce magic into the relationship."

The Last Matchmaker: 'Find The Magic' [Telegraph]
Ireland's Last Matchmaker [Time]
Book of the Week - The Last Matchmaker [BBC]
The Last Matchmaker
[Image via The Last Matchmaker]