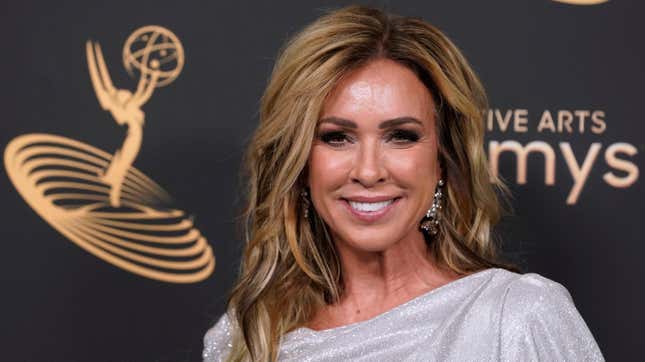 In a new lawsuit, a former cheerleader at Navarro College—which was made famous by Netflix's acclaimed docuseries, Cheer—has accused her former coach, Monica Aldama, of attempting to suppress her alleged sexual assault with bribery, the Dallas Morning News first reported.
There's Nothing More American Than Baseball & Begging Elected Officials to Care About Climate Change
According to the filing, the plaintiff claims she was sexually assaulted in her room by a male teammate, whom her roommate invited to their dorm in 2021. After she went to sleep, she alleges, the male cheerleader climbed into her bed, began taking off her clothes, and inserted his fingers inside of her. After some time, she claimed she was able to push him away.
In the suit, the plaintiff went on to describe approaching fellow female teammates the follow day, but she didn't quite receive the support she was hoping for. As she recalled one older cheerleader's advice: "You just need to drink it off and get your mind off of it," because "that's what Navarro girls do— they drink. We don't tell anyone. We just keep it to our self."
Notably, she also alleges that she was pressured not to approach Aldama or report the alleged assault by multiple teammates—including male members of the squad who got into a verbal altercation with her boyfriend and "threatened to kill them for reporting the assault." The male cheerleader, the suit states, apologized to her for the assault following a conversation encouraged by the team's "unofficial captain."
But she was undeterred and approached her coach, Aldama, about the alleged assault. According to the filing, Aldama told her: "Let's not make this a big deal. I want the best for you and I will help you cheer wherever you want." Days later, after she quit the team, she recalls Aldama saying: "If you keep quiet, I'll make sure you can cheer anywhere you want." Aldama has since responded to the allegations, calling them "wildly inaccurate."
"I am heartbroken by the false allegations made against me," Aldama said in a statement to People. "I would never remain silent, or ask any student to remain silent, if I were aware that any sexual misconduct occurred in the Cheer program."
Also named as defendants in the suit are school staffers including the university's Director of Athletics, Michael Landers, and the Title IX coordinator, Coordinator Elizabeth Pillans, who the plaintiff says told her that neither the school nor local law enforcement could provide a rape kit. In response, Navarro College told People that the school "denies any allegations of wrongdoing and is prepared to vigorously defend itself in court."
"Navarro College prohibits sexual harassment and sexual misconduct against all students and is deeply committed to providing an educational environment free from sex discrimination and sexual assault," the statement reads. "The college has established robust policies and procedures for reporting, investigating, and responding to all allegations of sexual harassment and sexual assault."

As fans of the show can recall, this is hardly the first sex scandal the team has weathered. In 2022, one of the show's most beloved cheerleaders, Jerry Harris, was sentenced to 12 years in prison for soliciting naked pictures of underage boys. Harris was also alleged to have solicited sex from minors at competitions.
Neither Aldama nor representatives from Navarro College immediately responded to Jezebel's request for comment.