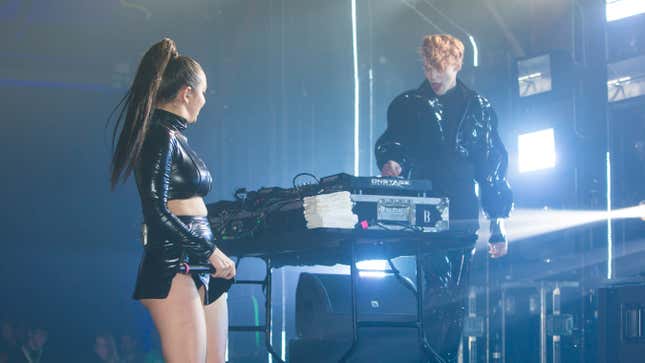 I still haven't quite wrapped my head around it all—Sophie's death, her legacy and impact on the course of music history. She was not just a legendary producer, but an innovator among trans creatives, and someone through who so many saw a vision of a better world, through her music, and her spirit. It's currently hard to put it into words. She will be missed, dearly.

Taylor Lautner Doesn't Even Remember Saying 'Bella! Where the Hell Have You Been Loca?'
On Instagram, Charli XCX shared her memories of Sophie, and thoughts about her passing. The two were frequent collaborators, with Sophie-written and co-produced tracks like "Vroom Vroom" going on to be near-instant pop legends. "It's really hard for me to sum up the special connection I felt with such an amazing person who completely changed my life," Charli writes. "It's impossible to summarize the journey I went on with Sophie. Even the most insignificant things felt enormous."
She continues:

"I can't explain how I feel and I can't encapsulate what a unique person she was in one small social media post. I will honor Sophie in my own time personally, in my grief, through my memories, through my work, through writing things only I will read. But for now, all I can is that I will miss her terribly, her smile, her laugh, her dancing in the studio, her gentle inquisitive voice, her cutting personality, her ability to command a room without even trying, her incredible vision and mind. She taught me so much about myself without even realizing. I wish I had told her more how special she was, not just her music, but her as a person. I love you and I will never forget you Sophie.

Through their work together, Charli and Sophie produced some of pop music's finest works in the 21st century, or maybe ever.
Another favorite:

But the one that sticks with me, still, is "Trophy." In classic Sophie fashion, Charli screams, at a near-earsplitting decible, autotune cranked so hard the speaker might break: "ALL THE GIRLS ROUND THE WORLD NOW WE'RE IN CONTROL / ALL THE GIRLS ROUND THE WORLD 1, 2, 3 LET'S GO!"
And then, simply: "I want that trophy."

Charli makes party music. Through Sophie, that urge intensified. Together, their work felt like a release. For them, for their listeners. At the time the Vroom Vroom mixtape dropped, I was depressed, broke, and alone in my own transition-fueled hell. But wherever I listened to it—on the subway, or in my dark apartment, drifting off to a drug-induced void—I suddenly wasn't so outside myself.

I was one of the girls, around the world, and in control.